Return to Headlines
RBR Senior Named Student Journalist of the Year by NJ Press Association
RBR Senior Named Student Journalist of the Year by NJ Press Association
photo by Sarahmaria Gomez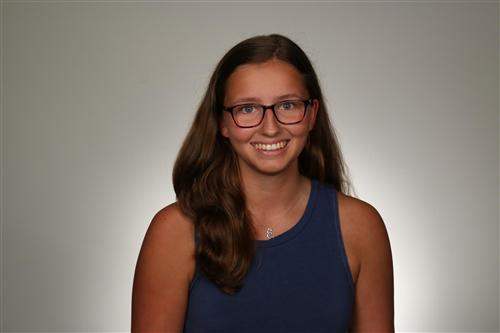 Red Bank Regional (RBR) senior Ella Brockway of Shrewsbury was recently named the Garden State Scholastic Press Association's New Jersey Student Journalist of the Year. The honor comes with winning the Bernard Kilgore Memorial Scholarship sponsored by the New Jersey Press Foundation (NJPF) and the Garden State Scholastic Press Association. Ella will be honored by the NJPF at its annual Spring Awards Celebration in Hamilton, New Jersey on April 20. She will represent New Jersey in the 2017 Journalism Education Association's National Student Journalist of the Year competition.
Ella comments on her most recent accolade, "It is such an honor to be named the NJPF's Student Journalist of the Year, and I'd like to thank the NJPF and the GSSPA for their recognition. The new and improved Buccaneer website is the result of a dedicated team effort. We have more writers than ever before, and I'm excited to see what the future brings for our staff of younger writers. We're also grateful for the support of RBR Principal Clay, Buccaneer Advisor Marianne Kligman, and Athletic Director Del Pra."
Ella Brockway is that rare student who has known what profession she has wanted to pursue from a very early age. She has been a regular contributor to local sports media outlets such as Jersey Sporting News and Shore Sports Network for the past two years, writing about Monmouth County high school and college sports. She was recently recognized at the New Jersey State Interscholastic Athletic Association's New Jersey Girls and Women in Sports Day event, and she continues to be professionally published today.
RBR Principal Risa Clay comments, "Upon her entrance to RBR, Ella dazzled us with amazing and professionally written sports articles in her unique voice. Her innovative ideas led to the production of an online version of our school newspaper, broadening the scope and accessibility of the paper. Ella is an exceptionally dedicated student and is a true leader in our school community."
Ella Brockway honed her craft by attending extended summer journalism programs at American University in Washington D.C., the University of North Carolina at Chapel Hill, and Northwestern University, as well as conferences at Columbia University. She graduated to sports editor and then editor in chief in her senior year when she revamped the entire online school newspaper, The Buccaneer, utilizing the skills she learned. She launched a daily round-up of school sports news and scores, featured interviews with athletes in a weekly column called Breakfast with a Buc, and introduced the newspaper's first Spanish-language section written by native speakers. As a result, she increased her school newspaper's viewership exponentially.
In addition to her journalism leadership, Ella serves as the captain of the RBR tennis team and the president of the National History Honor Society. She also earned membership in the Math, English, Spanish, and National Honor Societies. She is recognized by the College Board as both a National Merit Commended and an AP Scholar. Ella regularly tutors her high school peers in English and math and is a member of the RBR Fellowship of Christian Athletes and Math League.
Her advisor to the student newspaper, Marianne Kligman, comments, "Ella has been an outstanding asset to our school newspaper and our high school. She greatly deserves this honor of NJ High School Journalist of the Year. We will sorely miss her when she graduates, but we know we will be reading the stories she writes for years to come."