Return to Headlines
Student Applications for RBR's First Annual "Shark Tank" Competition Due April 7
Student Applications for RBR's First Annual "Shark Tank" Competition Due April 7
Ideas or Services Sought in the Spirit of "Making the World A Better Place"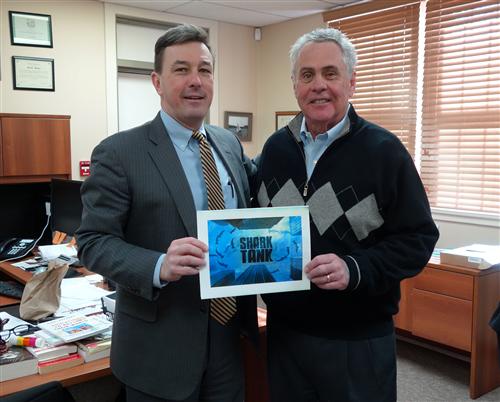 Student applications to participate in Red Bank Regional's (RBR) first annual Shark Tank competition are due, Friday, April 7. The Rotary Club of Red Bank is sponsoring this first annual competition to promote entrepreneurship within the RBR student body in the fun and exciting format of the popular Shark Tank television show. Students may participate as individuals or in teams of up to four people. The top winners will earn scholarships of $2,500 (first place) $1,500 (second place) and $1000 (third place) for their college education or to help fund their start-up business idea.
Applications should present a viable business plan for an innovative and realistic product or service to make the world a better place. Proposals are limited to 700 words and can utilize power point and/or visual aids. Proposals should include details about the manufacture of the product or delivery of the service as wells as: costs; anticipated profits, projected growth; details about customer base. Applications are available on the RBR website and in the main office and can be submitted via email to Dorrigo@rbrhs.org or mailed to D. Orrigo, Red Bank Regional High School, 101 Ridge Road, Little Silver, NJ 07739
A panel of judges from the Rotary Club and the RBR administration will select the best ideas; those finalists will then be invited to make a five minute business presentation of their plan to the panel at the high school on May 30. Judges will have a real interaction with the students in questioning their proposals just like the real Shark Tank show.
RBR Superintendent Dr. Louis Moore states of the event, "This should be a great school-wide event to challenge the creativity of the talented students we have at RBR. It will also generate ideas to improve our community. I encourage as many students or teams with a great innovative idea to participate."