Return to Headlines
Three RBR Teams Score High in Technology Coding Competition at Stockton University
Three RBR Teams Score High in Technology Coding Competition at Stockton University
RBR Teams Took Three of Five Top Spots in CSTA Competition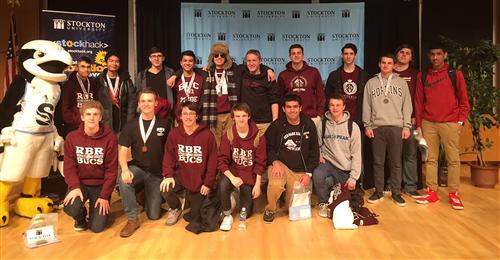 The Red Bank Regional (RBR) Academy of Information Technology (AOIT) always searches for opportunities for their students to compete on the specialized knowledge they learn in their technology academy. The AOIT found such an opportunity for its students to compete in computer coding on St. Patty's Day, March 17, in the second annual Computer Science Teachers Association South Jersey (CSTA-SNJ) computer science competition at Stockton University in Galloway, NJ. The competition included 130 students from 12 New Jersey High Schools. While a team from Toms River took the first place honors. RBR dominated by taking three of the five top placements.
Second Place went to The RBR Team of Jack McNally, Little Silver; Bobby Villaluz, Shrewsbury; and Andrew Schembor, Shrewsbury. Third Place was captured by the RBR Team of Dylan McRae, Union Beach; Jack Glauber, Shrewsbury; and Makoto Brown, Tinton Falls. RBR took one of the two honorable mention categories with the team of Harry Jain, Red Bank; Damabir Sahi, Neptune Township; and For Zacks, Red Bank.
Coding provides the building blocks of all computer software, apps and websites. The competition presented seven programming challenges over 2.5 hours. The winning teams were determined by the ability to finish the greatest number of challenges in the shortest period of time. The first and second teams finished all seven challenges, with the fastest speed determining first place. The competition requires students to think critically, analyze data and write programs to overcome the challenges posed. Stockton University's network and security administrator, Demetrios Roubos, coordinated the event and created the problems which took place in the University's computer lab.
RBR AOIT teachers Jeremy Milonas and Alison Sweeny brought 17 students to Stockton University, which was the only coding competition, offered in New Jersey this year. The students were from RBR's AP computer science class, while others had taken the academy' web and mobile application development class.
Ali Sweeney commented, "The coding competition offered our AOIT students an amazing day. Not only did the students get demanding programs to code, they were posed the challenge to figure out how to work collaboratively and efficiently with other team members. These are essential career skills no matter what field of study our students chose to pursue."
Jeremy Milonas added, "Our students conducted themselves as professionals and did an excellent job. This competition is valuable to students since competition is what makes the students better at this skill. It gives them the sense, 'I can do this! And I want to win this next year, so how do I get better?'"