Return to Headlines
RBR Team Maroon Places Second in the Nation at CyberPatriot IX
RBR Team Maroon Places Second in the Nation at CyberPatriot IX
RBR Team Maroon Bested Over 2200 High Schools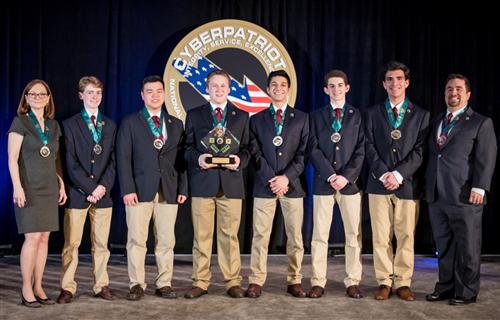 On Thursday, April 6, the students of Red Bank Regional High School (RBR) emptied their classrooms and lined the school's corridors to welcome home their victorious classmates. The Little Silver Fire and Police Departments provided a heroes' escort as Team Maroon exited the van to the cheers and high fives of their school community. After seven months of grueling competitions, starting in a field of over 2,200 high schools, Team Maroon advanced round after round to achieve their victory.
In mid-January the team earned their first trophy with the NJ State Champion title (RBR's teams Gray and White took second and third places, respectively). With the competition whittled down to the top 300 teams for the Regional Event, Team Maroon not only took the Northeast Regional title but also earned their spot in the elite top 12 Finals team. At this point they knuckled down for 8 weeks of intense day, night and weekend practice to prepare for the ultimate test of their skills. Their efforts culminated when Team Maroon took the second highest honor in the country at the three-day CyberPatriot National Competition in Baltimore, Maryland sponsored by the Air Force Association. They are proud to be in the company of First Place winner North Hollywood High School, California and Third Place winner Poolsville High School, Maryland.
Team Maroon --composed of seniors Bobby Villaluz, Shrewsbury, Kyle Neary, Shrewsbury, Young Chen, Belmar, and juniors Jack Ferrone, Shrewsbury, Andrew Costa, Shrewsbury and Woody Quinn, Little Silver -- were ebullient and a little surprised to be greeted with such fanfare. After all they were not a football team returning from the state championship. They were RBR Academy of Information Technology students; their equipment,--computers, and hard-learned technology skills used to harden their computer and network defenses against an assault that included backdoors, malware, and whatever else malevolent hackers can dream-up.
Woody Quinn commented on his team's warm homecoming, "It was really exciting. I didn't expect that many to support us, but it was great having the whole school supporting the team."
Bobby Villaluz added, "Just that moment walking through the hallways, and having all our classmates supporting us and cheering us made all those hours we spent worth it!"
On those many hours, their coach and Academy of Information Technology teacher (AOIT) teacher Mandy Galante commented, "They put in hundreds of hours of practice working together and at home. To make sure they could fit in a weekend practice, they volunteered to start at 7:30 on Saturdays to work around the jobs that many hold. They are incredibly focused kids; a synonym for commitment is RBR Team Maroon."
Though Mandy Galante admits the RBR cyber security program gives the students a great foundation, she saw Team Maroon take the initiative beyond their coaches' help to train themselves so their skills reached new levels through each round of the competitions.
Co-captains Kyle Neary and Bobby Villaluz are three-year veterans of the competitions, as RBR made it to the top 12 final spots for the past two years (at CyberPatriot VII& VIII) but didn't place. Building on that history, the team's hunger for a win is further fueled by RBR's previous First Place win at CyberPatriot III in 2011. That was the first year the competition was open to public high schools and only 300 high schools participated.
"With the program growing exponentially, at this point CyberPatriot is an incredibly elite level of competition" Mandy Galante adds. Kyle Neary agrees stating, "It was the most stressful it has ever been. They just kept on throwing a bunch of different things at us that we had to figure out."
During the competition, all 12 teams were sequestered in cubicles with their computers and their assignments. The core NetSec event has the team spend 3 ½ hours defending multiple Linux and Windows servers while under active hacking attack by an in-person Red Team. Just as they resolved one issue, as Kyle describes, another one was thrown in their wake. The students needed to work together as a team to critically address the problems at a frenetic pace. Coaches were not allowed in the competition space and could only stare at the scoreboard which showed scores, but no team names. One thing was clear to the tense spectators - only fractions of points separated the first, second and third place teams.
According to AOIT Teacher and Coach Jeremy Milonas the team never lost confidence adding, "After talking to them on how they feel the competition went and what they did, I had no doubt they were going to end up with one of the top spots."
Andrew Costa adds, "We were very confident until the (awards) dinner; there was a lot of adrenaline at that dinner."
Senior Young Chen states of the CyberPatriot experience, "The important thing is that we did everything together as one team, as one family, and that trumps everything."
The RBR AOIT Cybersecurity curriculum was developed in 2008 by Mandy Galante. It encompasses a four-year instructional-track in computer hardware, networking, security and digital forensics, with a concentration on active labs with real equipment. This unique curriculum coordinates with an advanced four-year Computer Science program to build a solid foundation in cyber security. The purpose of this track is to spark student interest in a crucial career path which protects American government and corporate assets against cyber-attacks.
Mrs. Galante adds, "Never underestimate the power of competition and a shiny trophy to motivate hard work. CyberPatriot has all the positive qualities of being on a sports team - common interest, working together to improve skills, camaraderie and the adrenaline rush of scoring points. But CyberPatriot has the added bonus of developing talents that are in high demand and lead to exciting challenging careers."
The program has had a very positive affect on Team Maroon's members. Bobby Villaluz will attend Cornell University in the fall where he will study Computer Science. Kyle Nearly will study computer security at Drexel University and Young Chen will attend Champlain College where he intends to study for a career as a forensic digital analyst. Andrew Costa and Woody Quinn are similarly considering studying computer science/cybersecurity in college.
The competition had a profound impact on Jack Ferrone. He stated, "Based on what we saw at the (Northrup Grumman tour) military base, it really inspired me. I want to join the military now."
Jeremy Milonas adds, "This program is huge for these kids' future. It prepares them with real life skills as professionals in an industry that is so important to our country's future with the need to protect our infrastructure and all our personal identifiable information. This was one of the goals of this program."
With the great increase of participants and complexity of the competition, the Air Force Association, the founders of the CyberPatriot competitions, appears to be realizing their goal of inspiring more American high school students to undertake this important course of study.
For more information on the CyberPatriot competition visit their website at https://www.uscyberpatriot.org/.