Return to Headlines
RBR Vocal Major Lends Her Powerful Voice To Healing Victims of Domestic Violence
October 8, 2015
RBR Vocal Major Lends Her Powerful Voice To Healing Victims of Domestic Violence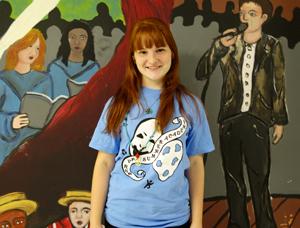 By most measures, Red Bank Regional (RBR) Visual & Performing Arts Academy (VPA) vocal major Allison LaRochelle is a very accomplished young artist. She has studied voice from the age of seven and has been an active part of the Count Basie Rockit's youth rock n roll performance program since its inception. Her powerful, Janis-Joplinesque voice has prompted such descriptions as "a mature woman trapped inside a teenager's body." She is the lead singer and a song-writer for her Jersey shore Band, Crimson Sky. The rock/blues band has recently made it to the final round in the Stone Pony's Rock-to-the-Top Contest, with the final competition occurring in January of this year. She is also an excellent student having earned entrance into the National Music, English and National Honor Societies. Allison is a Chamber choir member at RBR and recently joined the Harp ensemble. She has also been selected to the prestigious All Shore Choir.
A senior, she hopes to attend a strong arts college next year to learn the business-end of the music industry so she can best market her talent. A resident of Middletown, she chose to attend RBR to expand her musical ability with classical training offered in the VPA.
She states of her choice of high schools, "The (RBR, VPA) program has been really great and prepared me well for the college environment. It taught me the balance of arts and education and it was really nice to be part of community of students that shares my passion for music."
However, one of the most rewarding gigs Allison LaRochelle has ever undertaken came about most unexpectedly when she decided to attend a yoga class and met the remarkable Eleonora Zampatti. In addition to a full schedule of yoga classes, Ms. Zampatti created a most unique yoga class during the phase of the new moon. Ode to the Moon (held at Renaissance Pilates in Red Bank) was developed to bring awareness to the often-taboo topic of domestic violence with class donations benefiting 180 Turning Lives Around, Inc, an organization the serves that population.
Eleonora, a repeat victim of domestic violence, explains, "The moon is new and, therefore, this type of practice is a very comforting kind of yoga that allows you to embrace the darkness we carry inside. It is the most vulnerable time of the lunar month when we can, therefore, best get in touch with our emotions." She adds, "Domestic violence is a topic which bears a lot of shame and we tend not to talk about it, but unfortunately because we don't talk about, we don't heal and those who are abused tend to allow the same situation to occur again."
Music is a key element to the class, as Eleonora carefully selects music and lyrics that aligns with this extremely sensitive subject matter.
"We are all connected to music," Eleonora explains, "We all have certain songs which evoke and open something in ourselves."
Eleonora was looking for a vocalist to sing live music in the class, when she learned of the young red-head's musical abilities. On a lark, she asked Allison if she would perform a selected song-list. Allison agreed and returned to the next Ode to the Moon class with her powerful voice and 18 year-old guitar accompanist Tristan Garrity (also a member of Crimson Sky). She performed such relevant covers as Joss Stone's Right to be Wrong Aerosmith, Dream On By Janis Joplin Cry Baby, Christina Aguilera's I'm Okay, and RIHANNA's Stay among many others. The two played their live music during the entire class.
The effect was amazing.
Eleonora remarks, "When I first heard her, I wondered how I was going to finish the class. It was so emotional it reached my soul."
Allison and Eleonora formed a deep connection and Eleonora was able to open up to her about her past. Allison reacted by writing a song for Eleonora to give voice to those inexpressible and excruciating emotions.
The refrain for Lay Your Hand on me states, "Lay your hand on me, be my saving grace. Lay our hand on me, I really need someone to help me find my sacred place." The song can be heard on YouTube at: http://youtu.be/2-tLcwwrugU.
Allison comments, "It is an absolute honor to lend my voice for therapy. Eleonora states that I give her a voice. Like Eleonora, a lot of people do not know how to use their voice, and that is my job to give people a voice through my songs."
Allison, who is blessed with only experiencing loving and healthy relationships, did not really understand domestic violence until she heard her yoga teacher's story.
She adds, "I didn't realize the silence domestic violence brings. So, for me to give these victims a voice is so important and incredible and is one of the most important things I have ever done."
You can hear Allison's outstanding voice and help the plight of those affected by domestic violence by attending the monthly Ode to the Moon class in Red Bank. The first class is free, and a donation is encouraged. For more information visit Eleonora Zampatti's website: www.embraceandbloom.com.