Return to Headlines
RBR English Teacher Promotes the Graphic Novel with her Third Scholarly Publication
October 14, 2014
RBR English Teacher Promotes the Graphic Novel with her Third Scholarly Publication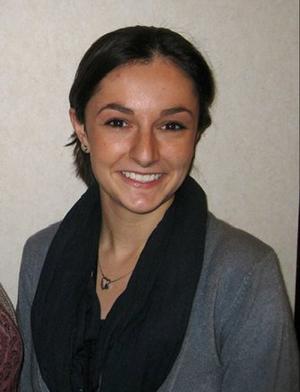 Sara Van Ness, an English teacher at Red Bank Regional High School (RBR), is already a very accomplished young woman; she acquired her masters in English from Monmouth University and is currently enrolled in doctoral program at Rowan University for Educational Leadership. She spends her summers as a therapeutic horseback riding instructor for children with special needs. Also, she is about to have her third scholarly work published on the graphic novel, a love she nourishes at RBR where she teaches a rare high school course on the subject.
RBR Principal Risa Clay remarks, "Ms Van Ness is not only an exemplary teacher- she has a passion for her content area. She has chosen to share her knowledge with other educators and help them to refine their craft. We are so proud of her accomplishments."
Sara Van Ness describes the graphic novel, a genre that really gained mainstream popularity in the mid 1980s, as an interactive medium that combines visual images and words in a form that resembles a long comic book. Some popular graphic novels include Watchmen by Alan Moore and David Gibbons, Maus by American cartoonist Art Spiegelman, and Batman: The Dark Knight Returns by Frank Miller.
"The graphic novel is unique as it is interactive," Ms. Van Ness explains, "Because the reader has to learn to read visually by filling in what is going on between the pictures with words."
This has evolved to become a very popular English elective at RBR (a course established four years ago from Ms. Van Ness's proposal to administration). Sara continues, "It has been wonderful to see students, who may not be avid readers outside of school, taking an interest in reading and even checking the graphic novels out of the library. These books are terrific, especially for visual learners."
Sara describes her foray as a published author as serendipitous. As a writing assistant in her undergraduate days at Monmouth University, she enjoyed helping students improve their writing skills. She also was a hobby artist who earned money during her college years with a small portrait business. So when a professor introduced her to graphic novels, which combined her skills and passions, and recommended she read Watchmen, she was hooked.
Upon her graduation from Monmouth University in 2008, summa cum laude, with a degree in English and Secondary Education, (That same year, she was awarded the New Jersey Distinguished Student Teacher Award from the state's Department of Education.) the highly commended graduate delayed her career in education to write a book. Her first publication, Watchman as Literature: A Critical Study of the Graphic Novel; published by McFarland, in 2010, is a book of literary of criticism which analyzes the text from a variety of angles.
While working at RBR, and simultaneously studying for her graduate degree, she discovered that American Beat Generation author, William S. Burroughs, had intended to publish a graphic novel in collaboration with artist Malcolm Mc Neill, but the work was never produced as originally intended. She contacted Mr. Mc Neill to learn more. Their professional relationship grew, and he asked her to review his memoir Observed While Falling: Bill Burroughs, Ah Pook, and Me. Soon, thereafter, he requested that she write a historical narrative to accompany the long awaited release of the original artwork from the Ah Pook project. This became her second publication, included in Fantagraphic's The Lost Art of Ah Pook is Here: Images for the Graphic Novel, which was published in 2011.
Her third publication, a paper on Alison Bechdel's memoir Fun Home, sprang from an Advanced Placement workshop she attended as an RBR teacher. There, she met Dr. Alex Romagnoli, who was very impressed to discover an English teacher, who taught an elective in the graphic novel in a public high school that offered such a course. He introduced her to the Indiana University of Pennsylvania's scholarly journal Work and Days, which will publish her paper in the spring of 2015 in a special journal featuring the graphic novel.
Related to her early and extraordinary successes, she comments, "I am very fortunate to have the opportunity to work with great people here at RBR, great professors at both Monmouth and Rowan University, and of course, and family and friends, who have supported and helped me to achieve the success I have in my writing. I truly believe I could not have accomplished this without them."
Recently Ms. Van Ness received a heartwarming email from a former student, Dillon Stambaugh who wrote, "I just wanted to let you know that our graphic novels class, three or so years ago, has really helped me out in college. I'm taking a class and Maus is the focal point. Having already read Spiegelman's work and learned the ability to analyze individual panels, I have a distinct advantage. I name dropped Scott McCloud and now my professor is using the text in class. Oh, and I read Watchmen again. I had to. So I just wanted to say thank you and I hope that course is still going strong!"
She comments, "I am very grateful for my opportunities at RBR as I have been able to share my passion for graphic novels with the kids, like Dillon. It has been really wonderful to see my students learn to love books. That is very cool."