Return to Headlines
RBR Celebrates its Students' Hispanic Heritage
October 21, 2014
RBR Celebrates its Students' Hispanic Heritage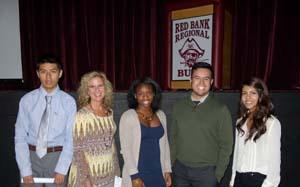 Red Bank Regional (RBR), a richly diverse high school, celebrated its students' Hispanic roots at an assembly celebration on October 21, which follows the period know as Hispanic Heritage Month.
The program was developed by the school's Multicultural Club with co-advisors Karina Tedeschi and Odilia Lligui who comments, "There are not words to describe the effort and excitement that our kids put in this program. It is fueled by their desire to make a difference in our community."
RBR Senior Jorge Benavides opened the program with a speech he wrote and delivered in Spanish. RBR Principal Risa Clay translated it in English for the student body.
Jorge told his fellow students, "We are proud of our accomplishments, our roots and our values. Family comes first and so does sharing. Despite many hardships, our people thrive through hard work and happiness. Great civilizations like the Inca, Maya, and Aztec still influence our culture, as well as the traditions of other indigenous groups and the ones brought by others like the Conquistadors, Africans and recent immigrants."
He explained how Hispanic culture has contributed to the sciences, arts, (including music, dance, literature and cinematography) and sports. As the recent popularity of the World Cup attests, Latinos have dominated the sport of fútbol, known in the United States as soccer, since the 1930s.
The RBR Visual & Performing Arts majors offered a taste of the rich Hispanic culture in musical performances. The School Concert Choir sang the Spanish Folk Song El Bito and the Chamber choir performed Mata Del Anima Sola. The latter, translated as "Tree of the Lonely Soul" depicts the solitude and mystery of the llanos, the high plains of Venezuela. The Strings Ensemble performed Aliyah. The RBR Creative Writing Majors Emily Lugos and Mya Nunnally also performed an original spoken poetry piece in the spirit of the rainbow mosaic that is America.
Their refrain, "I am not just African, I am not just Mexican, I am American. I am everyone; I am no one. We are already written in your history in black and brown ink; the paper is no longer just white."
Jorge along with fellow Multicultural Club members Fabiana Villegas and Jasmine Graham narrated a special program on fútbol and also payed tribute to the world-renown boisterous and colorful Hispanic soccer fans. They explained, "There is a saying, "'El fútbol es Carnival.'"
RBR 2009 graduate Andres Perez was the event's keynote speaker. His story is one that many Hispanic RBR students strive to emulate. Andres came to America with his mother from Columbia when he was 14 years old and entered the RBR English Language Learner program. He worked very hard and earned the coveted Andrew Kroon Memorial scholarship enabling him to attend Brookdale College. He supported himself by working full-time. Upon his graduation, he was admitted to Rutgers' University's challenging business school program and immersed himself in college life. He worked part-time for the Office of Student Life and joined a fraternity where he held the positions of Community Service Coordinator and Historian. He was a member of the university's Marketing and Management Club. He graduated in 2013, and Andres is currently employed for the UCEDA Institute in Red Bank where he teaches English to adults and also works as an International Marketing Supervisor for an affiliate company, UCEDA International.
Andres spoke about what it meant to him to be Latino.
He stated, "It is not easy. It means you are just a human being, and should not be segregated by the color of your skin or the language you speak. It means you have a culture and are hard-working. We came here to learn and to succeed."
He told the RBR students that when he was a student, he had more jobs than he could count on one hand, starting out as a busboy and quickly ascended to waiter while still in high school. He never dreamed he would be where he is now, just four years past when he was a member of the audience he now addressed.
He advised the students, "You always have to be the best you can be. Humans are a product of their environment. You should be restless, ask questions and surround yourself with people who want to succeed as much as you."
Andre's cohort have been called the "Dreamers." But it has always been in the Hispanic culture to dream.
For one portion of the program, RBR teachers were interviewed on film to discuss the Nobel-prize winning author Gabriel García Márquez's quote, "It is not that people stop pursuing dreams because they grow old, they grow hold because they stop pursuing dreams."
RBR Principal Risa Clay responded to Senior Marques' quote, "Dreams are what keeps you going. Old in not a number; it is what is in our heart. You have to have dreams, and as educators, it is our job to support our students in the pursuit of their dreams."
Jorge Benavides had concluded his original presentation stating, "In the end we are all humans. We are living beings. We are all children of the sun as the Inca would say, 'Viva la vida que el sol sale para todos.'" Translation – "
Live life, the sun shines for all."