Return to Headlines
Student-marketed T-shirts Get Fans On Board
October 16, 2014
Student-marketed T-shirts Get Fans On Board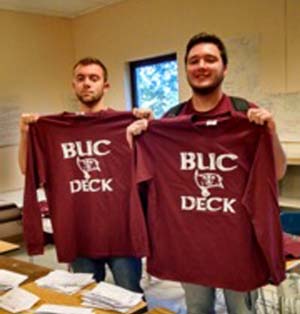 Building on a growing sense of school spirit, seniors Ryan Santos and Mark Eulner decided to do even more to unify Bucs fans. In the weeks leading up to Homecoming, the two designed and marketed "Buc Deck" t-shirts, referring to the name of the student football fan section.
"Mark and I came up with the idea to make the t-shirts for the main purpose of promoting school pride. That was our main objective. We felt as if Red Bank Regional was lacking some of it, so we thought this would be the best way to help out" said Santos.
The two combined their own sales experience with social media to market the shirts. "We decided to use Twitter and make our own 'Buc Deck' account," Santos explained. "These days, social media is the biggest way of communication." The boys were aided by a sales force from one of the sophomore Leadership through Literature classes, who focused on selling shirts to underclassmen.
"We first put out on Twitter a survey of a few different designs," Santos explained. "Whichever one received the most 'favorites' would be our design." The final design turned out to be a winning one, as in just one week, students and staff bought scores of shirts, which arrived just in time for the October 10 Homecoming game.
"At first, our goal was to sell maybe 50 of these shirts," Santos said. "But as word went around, sales went through the roof! Selling over 200 shirts in 5 days is unheard of."
Athletic Director Louis DalPra agreed. "I get many, many requests to run t-shirt sales as fundraisers," he said. "Most of them don't come to fruition. I was totally impressed by Ryan's and Mark's initiative. We're proud not only of the sales they generated, but also their boost to school spirit. They're what Buc Pride is all about."
Part of the proceeds from the shirt sales went toward a huge "Buc Deck" banner for the stadium. Santos plans to use the rest of the funds to further amp up the Bucs and their fans, saying, "With the money we have made with the t-shirt sales, we will try to grow school pride throughout Red Bank Regional in any way possible to make this year, and many more years to come, worth remembering."
Summed up Principal Risa Clay, "These young men demonstrated just how powerful a student led project can be. They recognized a need for change and they seized the opportunity, and our school pride absolutely benefited from their hard work."