Return to Headlines
RBR VPA Sends Eight Vocal Majors to New Jersey's All State Chorus
October 20, 2014
RBR VPA Sends Eight Vocal Majors to New Jersey's All State Chorus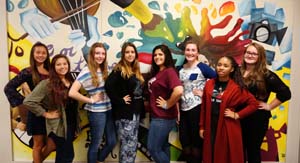 Pictured are the eight Red Bank Regional (RBR) Visual & Performing Arts Vocal majors who will represent their high school in the prestigious All-State Chorus for the 2014-2015 school year. They are (left to right): Jade Glab, Belmar, Alexa DeAnna, Keansburg, Shannon O'Donnell, Little Silver (all in Mixed Chorus, which includes males and females); Mackenzie Clark, Shrewsbury, Jaclyn Gisondi, Shrewsbury, Lauren O'Brien, Middletown, Jazmin Graham, Belmar, and Dannielle Wolf, Shrewsbury, who are in the Women's Chorus. The girls represent an elite group of New Jersey's finest high school singers (350 for the mixed choir,) and 150 in the Women's Chorus culled from thousands of students who auditioned last spring.
The Mixed Chorus will perform two concerts--the first at Convention Hall in Atlantic City on Friday, November 7, at 8 pm; and the second at the NJPAC, in Newark, on November 16 at 3 pm. The Women's Chorus will perform at NJPAC in February, with details to be announced. The programs will feature a variety of musical pieces including gospel, secular, hymns, folk songs and classical in a multiple languages including one number in sign language.
Senior Jaclyn Gisondi, Shrewsbury, who will be part of the Women's Chorus for the second time comments, "I look forward to reconnecting with people I performed with before and it is also nice to share this experience with some of my closet friends at RBR."
Junior Lauren O'Brien from Middletown, who made All-State Women's Choir for the first time states, "I think it is an honor to be a part of something so esteemed and to be able to work with so many people from all over the state. This is a great musical experience that I will remember for the rest my life."
Mackensie Clark from Shrewsbury, who is a repeat performer having made the Mixed Choir in her junior year and returns to the Women's Choir in her senior year comments, "- I am happy I am able to experience the two different groups --singing with all four parts, and now only with women."
Junior Alexa DeAnna, Keansburg, who will go to the prestigious Mixed Chorus for the first time states, "I am very excited and feel very proud that I made it into a choir composed of students from the entire state of New Jersey."
The NJ All State Chorus is sponsored by the NJ Music Educators Association, a division of NAfME, the National Association for Music Education.