Return to Headlines
Girl Be Heard Returns to RBR Communicating Powerful Messages for Women and Men Alike
October 27, 2014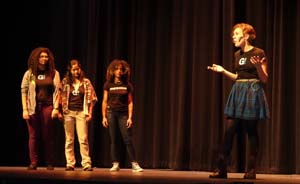 Girl Be Heard Returns to RBR Communicating Powerful Messages for Women and Men Alike
Ashley Marinaccio, formerly of Long Branch and a 2003 graduate of Red Bank Regional High School (RBR), recently returned to RBR with her all-female theatre troop from New York City to perform, once again, for her alma mater. (Their inaugural visit to RBR was in 2012 and they were asked back by popular demand.) Girl Be Heard (GBH), a non-profit theatre collective, which Ashley co-founded in 2008, has played in prisons and at the White House, off-Broadway and at the United Nations. GBH's website describes its mission as, "(Using) theatre as a vehicle to empower young women to become brave, confident, socially conscience leaders, while they explore their own challenging circumstances."
Ms. Marinaccio commented, "I am very excited to be invited back to RBR, and especially wanted to continue to perform in venues along the Jersey Shore in the aftermath of Hurricane Sandy."
The group has tackled causes, both domestic and global, and has performed at international venues including a recent trip to China. Such subjects include sex trafficking and the treatment of girls in the Congo. GBH was invited to the White House by Michelle Obama to bring awareness to these issues on the eve of her trip to South Africa. Over 100 female performers now comprise the collective. Ms. Marinaccio brought along four members for this program which covered such issues as relationships, sexual identity and stereotyping, bullying. mental health concerns and suicide.
The Source, RBR's School-Based Youth Services Program, sponsored the theatrical group's performance.
The Source's Clinical Supervisor, Stacy Liss, gave a special message for the men in the audience, stating, "Although there are no male performers, we are speaking to you. We need our young men to support these issues, as they affect you, your mothers, sisters, friends and future daughters."
Most of the performers wrote their own pieces, which are in part, biographical. They are guided by professional directors, playwrights, actors and intellectual who lend their skills to the group.
Performer, Jackie Torres expressed her disappointments on how Latinos are portrayed and stereotyped by the television industry. Betsy Perez dealt with the very personal and tragic case of her father's suicide after losing his job and sinking into depression. Blue Zephra performed a vignette on socio-economic class issues, stating, "How do I explain that economically I am poor, but spiritually I am not?" Emily Clark expressed her feelings of isolation in high school regarding her sexuality in a refrain of "No Homo."
The girls joined together to perform a vignette on women's roles in the world with the opening statement, "Why do they say women are too emotional to lead nations? They are always trying to feed someone. There is a reason every culture's claim to fame is "Our mothers will make you eat! ….So many cultures try to shut us up and keep us back. There is a reason our mothers want to fill us up to the brim –so we can stand together!"
Sophomore Maeve Bradley of Shrewsbury remarked on the presentation, "I thought it was really a provoking performance concerning issues that need to be more prevalently discussed in schools. It is so important, and I don't have the words to explain, why we need feminism and equal pay."
Sophomore Pheobe Carr of Brielle added, "There was a lot of world views being discussed and it reached out to everyone in the audience, not just the females."
After the performance, the actors directly engaged with their audience in what they term the "talk back." During that segment, they invited RBR students to ask questions, make comments and even perform their own poetry. Creative Writing Major Mya Nunnally took the opportunity to do just that to the applause of her peers, and admiration of the Girl Be Heard players. Ashley Marinaccio is a product of the same Visual & Performing Arts Academy in which Mya is currently thriving. Ashley was a dance and drama major and became the President of the Cares Club which focused on HIV/AIDS awareness and raised funds to support local HIV/AIDS Community Based Organizations. RBR continued with The CARES AIDS Benefits for years after Ashley's graduation in 2003.
Ms Liss stated of Ashley, "Even back in high school Ashley was interested in using the arts to improve the lives of others. Ashley is an activist and artist dedicated to creating theatre that challenges the status quo. She is an award-winning theater maker that has received local, national and international accolades."
Girl Be Heard is available to perform in other locals including school performances, workshops and nonprofit partnerships in the Tri-State area. It encourages others to join the troupe. For more information visit their website at www.girlbeheard.com.