Return to Headlines
RBR's Source Director Honored by The Latino American Association of Monmouth County
November 4, 2014
RBR's Source Director Honored by The Latino American Association of Monmouth County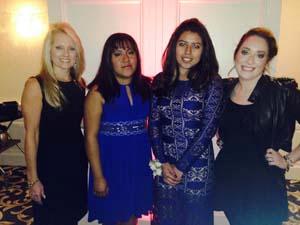 Suzanne Keller, Red Bank Regional's (RBR) Director of the Source and Freshman Academy Supervisor, was recently celebrated by the Latino American Association of Monmouth County as an Honoree at its Twenty First Award Banquet held in West Long Branch on October 24. She was honored along with: Joyce Jenkins, APN, Co-founder of the Paul M. McGuire Family Health Center; Gary Linington of VNACJ Community Health Center in Asbury Park, NJ; and Betty and Jorge Rod, founders of the National Association for the Advancement of Latino People. The Latino American Association of Monmouth County is a non-profit organization established to provide scholarships to college bound students.
The Latino American Association President, Violeta Peters wrote of the honorees, "Each year, the Association selects individuals that have shown concern, support issues important to the Latino Community and serve as mentors to our youth….The Honorees collectively demonstrate how hard work and determination can make a difference to themselves and those around them."
Through her work at the SOURCE, RBR's School Based Youth Service Program, Ms. Keller has helped further the dreams and aspirations of the school district's Latino students. One of her many responsibilities includes administering and fundraising for the Andrew Kroon Memorial Scholarship Fund. In her collaboration with the Latino American Association and the Community Affairs Resource Center, more students are able to achieve their goal of higher education. She also coordinates a mentoring program in the community to help graduates succeed at college and to develop to their full potential.
She addressed these efforts at the banquet stating, "Our Latino students, like other high school seniors, possess the hopes and dreams to continue their education beyond high school, but do not possess the financial means. At Red Bank Regional, we began a program to insure that all these students could achieve success and realize the dream of higher education despite economic barriers."
Suzanne Keller's responsibilities at RBR include maintaining the SOURCE's state grants and overseeing all special programs including Summer Slam, a transition program for incoming freshmen. She also is the Supervisor of RBR's Freshman Academy where the school's youngest students are additionally supported at this critical juncture of their high school experience. Ms. Keller also maintains strong relationships with the community including other non-profit organizations and agencies through a community advisory board.