Return to Headlines
RBR Student Graduates from Rutgers Robert Wood Johnson Mini Medical School
December 1, 2014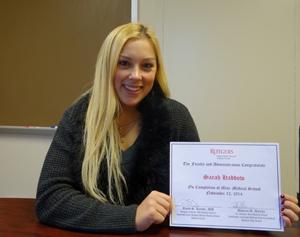 RBR Student Graduates from Rutgers Robert Wood Johnson Mini Medical School
Red Bank Regional (RBR) senior and 17-year old Sarah Haddow of Little Silver, thought she wanted to become a pediatric nurse. Through her experiences with little children, she had discovered that she loved to help them when they were not feeling well and most enjoyed making them smile. So by the time this energetic dancer, cheerleader, peer-leader and honor student was to enter her junior year at RBR, she decided to deeply explore this passion before she set upon a medical career path in college. She then took advantage of a career-exploration, co-operative program with the Monmouth County Vocational School for careers in health occupations located in Middletown, NJ.
She attended the vocational program in the mornings and spent her afternoons at RBR for her core courses, as well as participated in RBR extra-curricular activities including co-captain of the cheerleading squad, member of the Spanish Honor Society and the Student to Student peer leadership program. She also continued her involvement in RBR's AVID college-preparatory program into her junior year which she stated, "helped push me to do better and work harder."
Sarah thrived in both environments and even became Vice President of her Health Occupation Students of America Club (HOSA) which competed with other HOSA clubs performing CPR and first aid. (Her group recently medaled [coming in second] at the regional competition and went on to the state competition.) During the weekends, she continued to volunteer at River View Medical Center.
When the county school presented this highly motivated, multi-tasker with the opportunity to add yet one more activity to her packed schedule and attend a special six-week evening program at Neptune High School sponsored by Rutgers Robert Woods Johnson Medical School, she grabbed it. The program, entitled "Mini Medical School", was developed for Monmouth and Ocean County students to better understand issues involved in occupations in medicine. On Wednesday evenings, for six weeks during the fall, students attended lecture hall programs featuring such topics as trauma care, sudden cardiac death, concussions, lung cancer, pregnancy and the exploration of different careers in medicine. Time was also allowed to visit the Jersey Shore Medical Center where Sarah toured the pediatric wing and saw first-hand how important the nursing staff is to the medical community.
She comments, "Nurses are the backbone of the medical industry, and this experience more than solidified my choice of professions."
On November 12, she, along with other Monmouth and Ocean County high school seniors, officially graduated from the Mini Medical School at a ceremony which took place at Michael T. Lake Performing Arts Center in Neptune High School. Following her high school graduation, Sarah intends to attend Brookdale's nursing program and to sign a contract with Jersey Shore Medical Center, whereby the hospital will fund her last two years of college to attain her bachelor's degree in exchange for a commitment to work at the Monmouth County hospital. This was an opportunity she learned about through the Mini Medical School program
"Helping to make people, especially children, well is the best reward I could ever have," she explains.