Return to Headlines
RBR Dance Majors Present A Winter Concert – Divas and Legends
December 4, 2014
RBR Dance Majors Present A Winter Concert – Divas and Legends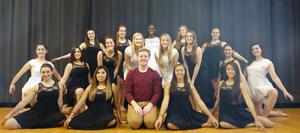 The Red Bank Regional (RBR) Visual & Performing Arts Academy dance majors proudly present their Winter Concert, Divas & Legends, on Thursday, December 18, at 7 pm with a repeat matinee performance on Saturday, December 20, at 2 pm. Tickets will be sold at the door for $10 for adults and $5 for children under 12; all RBR students are free. RBR is located at 101 Ridge Road in Little Silver.
The show features all 41 RBR dance majors with 19 works choreographed by the student dancers in a plethora of styles including, modern, classic, jazz, contemporary and hip hop.
Seniors Jaimie Berube, Little Silver, Bobby Davis, Shrewsbury and Gabrielle Ward, Monroe Township choreographed the opening number –a melody of Beyonce hits which features multiple and fantastic costume changes. All three students plan to continue their study of dance in college next year, as either a dancing major or minor.
Jaimie Berubee originated the theme for the show which showcases Divas Whitney Houston's "I Wanna Dance with Somebody," Lady Gaga's "Applause," Christina Aguilera's "Ain't No Other Man," and Jennifer Lopez's "Do It Well," among many others.
Jaimie Berube states, "We wanted to think outside the box, and thought there was just so many great songs by the Divas and Legends of music to perform. It is going to be an awesome show!"
The winter dance concert will conclude with the entire dance ensemble dancing to the Senior Class's choreographed piece, "All I want for Christmas Is You," by Diva and Legend Mariah Carey.