Return to Headlines
RBR Tradition Continues in Making Holidays Brighter for the Residents at Linkages
December 16, 2014
RBR Tradition Continues in Making Holidays Brighter for the Residents at Linkages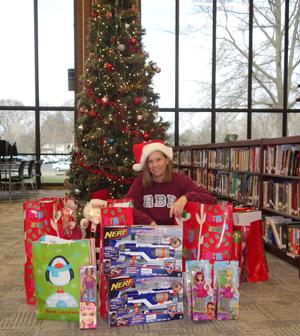 Every December, the Red Bank Regional (RBR) English office moves aside piles of books to make room for piles of holiday presents. For over ten years, teachers, staff and students at RBR have played Santa for residents of Linkages, an organization in Tinton Falls that houses homeless mothers and their children.
English teacher Cassandra Dorn inherited the job of organizing holiday collections from a fellow teacher over ten years ago. RBR staff and students "adopt" children and families and purchase gifts from the wish list provided by the Linkages staff. Often, teachers organize each of their classes to sponsor a separate child.
"Folks start asking me for the wish list before Thanksgiving," Dorn states, "It's become a holiday tradition at our school. This year, I emailed news of the wish list in the morning and by the end of the same school day, every child was sponsored."
Ms. Dorn is overwhelmed with her school community's generosity every year stating, "The number of gifts we collect is astounding. I need to bring gifts home each day to keep the English office from overflowing. The staff and students outdo themselves every year."
Dorn estimates that she will deliver over 200 gifts and gift cards worth thousands of dollars to Linkages this year. The Linkages staff then distributes gifts for parents to give to their children on Christmas morning.
She comments, "People tell me that it's the most fun shopping they do all year. Thinking about the smile an unexpected gift will put on a child's face makes this tradition a win/win for our whole community. It really gets us all in the Christmas spirit."