Return to Headlines
Keeping Vigilant on HIV/AIDS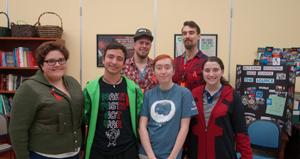 Keeping Vigilant on HIV/AIDS
Coordinators of the drop-in center Project R.E.A.L
(Real Empowerment on All Levels

) recently visited

Red Bank Regional (RBR)

to acquaint students with the safe and social space for LGBTQ youth and their allies.

On World AIDS Day, Eric Wurthrick and Tank Teachworth met with students of the Gay Straight Alliance (GSA) and encouraged them to spread the mission of the facility, to their classmates and other friends. Project R.E.A.L is located in Asbury Park.
"AIDS is not always associated with high school students, but 13 to 24 year old males represent the fastest rising HIV infected population. So that is why Project Real was founded," the gentlemen told the GSA club members who meet at RBR's SOURCE Program. The SOURCE is RBR's School Based Youth Services Program, and another safe place for high school students to meet during and directly after the school day.
The gentlemen described the many engaging projects planned on a day-to-day basis at the center—music, dancing, written word readings, video game tournaments or nights, cooking events in the center's fully equipped kitchen among others. All activities are member-generated.
In addition to providing a non-judgmental, least restrictive environment for young LGBTQ youth and their allies, the Project R.E.A.L, which is sponsored by the VNA Health Group and funded by the Department of Health and Division of HIV, STD and TB services, offers free HIV testing and infection prevention services
"Sixty per cent of the HIV infected population does not know they are infected," explained Mr. Teachworth. He added, "HIV does not care about your age, or gender; anyone can get it."
In addition to Project Real, students and faculty wore Red Ribbons to remember the 39 Million People who have died of HIV/AIDS.
For more information on the Project R.E.A.L. visit their Facebook page at https://www.facebook.com/ProjectRealAP or call 732-455-5516 or 17. For more information on the RBR Gay-Straight Alliance, please contact Stacy Liss @ 732-842-8000 x363