Return to Headlines
RBR's Educational Services Professional Of 2015-Kathy Smith, Media Specialist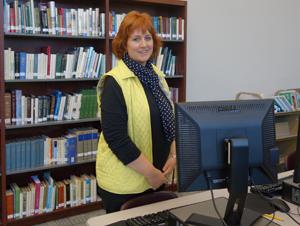 RBR's Educational Services Professional Of 2015-
Kathy Smith, Media Specialist
This year, for the first time, the Department of Education instituted the recognition of Educational Services Professional of the Year for New Jersey's public schools. That honor for RBR was bestowed upon Kathy Smith, RBR's media specialist, Educational Technology Coordinator and CAS (Creativity and Service hours) coordinator for the International Baccalaureate Diploma program. Mrs. Smith began her employment with RBR in 1999, and under her leadership, transformed the high school library into the digital hub and heart of the school.
She states, "We tried to create a place where students and staff can not only access information but have space to study, meet with other others for group sessions and have access to a variety of digital tools."
Over 22,000 student visits have been made to the library since September, on average over 50,000 student visits are made to the center during the school year." The brightly lit, segmented space is bustling with activity all day long as teachers continually rotate classes in for various research projects. Students use it for independent study and the Guidance Department conducts afterschool tutoring. Mrs. Smith recently added a stationary bike nook to the library to allow students to exercise while they read, thus encouraging healthy development for her students' bodies and minds.
According to Mrs. Smith, the library metamorphosis began with the reconfiguration of the floor plan and replacement of the furnishings, while simultaneously reducing the amount of print material, increasing digital offerings and adding a significant number of PCs and a MAC lab. The latter came courtesy of the RBR Educational Foundation through a grant written by Mrs. Smith. Through the Overdrive e-book program she implemented, students and staff can download books on tablets and other mobile devices. RBR provides access to on-line databases that allow students access to academic and print journals, newspapers and on-line reference collections.
She adds, "The amount of information available today is enormous and it is important for students to know that research skills are not something they only need for school assignments, but is a life skill; and that learning to be a good researcher is getting the best information in the quickest way possible and to know which is the most appropriate research vehicle for their needs."
Mrs. Smith, a Middletown, NJ, native, began her teaching career as a member of the original charter class for Teach for America following her college graduation from Rutgers. She taught in New Orleans public schools and later transitioned as a Media Specialist in that school system. She returned to New Jersey and began her career at RBR and lives in Middletown with her husband Dennis and children Daniel and Aileen.
RBR Principal Risa Clay states of Mrs. Smith, "Kathy has taken her vision and made it a reality transforming the "library" into a true media center. Her peers describe her as someone who has helped make them better teachers. Her enthusiasm, creativity and leadership make her a perfect choice for RBR's Educational Services Professional of the Year."