Return to Headlines
RBR 2015 Teacher of the Year Claudia O'Connor, VPA Studio Art Teacher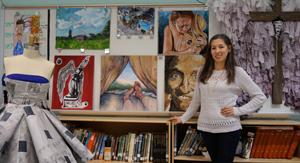 RBR 2015 Teacher of the Year Claudia O'Connor,
Red Bank Regional's 2015 Teacher of the Year, Claudia O'Connor, has been RBR's studio art teacher for the past ten years and has grown the program to one that is highly regarded and well- respected in the greater community. She also teaches the International Baccalaureate Visual Arts class and the AP Studio Art Class. Under her tutelage, RBR's VPA art students have honed and advanced their art skills. Her success could also be realized in the high scores her students consistently achieve on both the AP art and IB art portfolios. Many of her students gain entrance to prominent fine art colleges and have successfully launched careers in the creative arts.
Her students regularly exhibit their work and have won many national, state, local and regional art competitions such as the Monmouth Festival of the Arts and the Crop Walk. Her students showcase their talents in many venues including The Monmouth Art Guild, The Rumson Library and Pier Village. Mrs. O'Connor has lead them to utilize their gifts for the public good, whether it be in painting the town's business windows in fall finery or in raising money to aid the victims of domestic violence through the annual National Art Honor Society's (NAHS) Amanda's Easel Art Auction. She established the latter as the NAHS advisor in 2005. The NAHS also engages the wider community with the interactive art event, Kaleidoscope, which raises money for various charities. Her graduates have left their legacy on their school with their senior mural project which has beautified the halls, walls and doorways of RBR for a decade while providing an interactive client-business relationship lesson.
RBR Principal Risa Clay states of Mrs. O'Connor, "Claudia continually challenges and inspires her students to be the best they can be and they, in turn, credit her as having a profound effect on their lives. She is recognized by her peers and by her students' parents as a creative and inspiring leader. I have been honored to witness the amazing metamorphosis of the Studio Art Program with Claudia at its helm. She is most deserving of this honor."
A talented artist in her own right, Mrs. O'Connor also lends her own skills as the set designer for RBR's VPA productions and as a fine arts teacher in the VPA Summer Art Academy program. A graduate of Monmouth University with a fine arts degree, Claudia O'Connor, a Colombia native, came to her position, through the alternative route. She credits the strong mentorship of retired RBR VPA supervisor Tony Migliaccio for inspiring and guiding her in her initial teaching career. Mrs. O'Connor lives in Rumson with her husband Michael and their children, Victoria and Joshua.
Of her teaching career Mrs. O'Connor states, "I truly love what I do. I wake up each morning wanting to come to work. I just love to see how advanced and sophisticated my students become from their first audition portrait to their senior mural project. Some are so much more talented than I could ever be. I am making a mark in their lives and helping them become who they want to be. It is a little something I can give them to take from me.