Return to Headlines
RBR Strings Ensemble Enters Partnerships with the Community to Promote Music Appreciation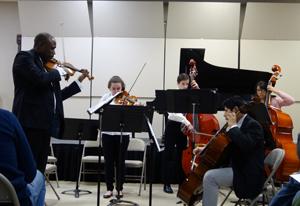 RBR Strings Ensemble Enters Partnerships
with the Community to Promote Music Appreciation
Red Bank Regional's (RBR) Visual & Performing Arts Academy (VPA) has been training Monmouth County artists for over thirty years. One of its nascent programs—a strings program (in existence for the past eight years) featuring a chamber ensemble and string majors incorporated into the main school orchestra, has been building partnerships to promote instrumental music in the community
.
This year, the Red Bank Regional Chamber Ensemble performs in a series of chamber music events at the Red Bank library, hosts an inter-district strings festival in April for middle and elementary school students and joins Monmouth Conservatory for its 50
th
anniversary celebration at the Count Basie in June.
The program is lead by RBR Visual and Performing Arts strings teacher Jeffrey Boga, a gifted musician, who studied violin performance at the prestigious Oberlin Conservatory of Music in Ohio and Chamber Music at the Shepherd School of Music in Houston, TX. He received his Masters in Music Education from the University of Georgia. At the beginning of the 2014-15 school year, when the Red Bank School District announced the cessation of its strings program in the Middle School for budgetary reasons, Mr. Boga conducted a gratis- afterschool program at the high school for the elementary and middle school students who would have otherwise lost the opportunity to play. Thankfully, that provision was no longer necessary with the recent resumption of the program in mid-fall through private fundraising.
The cancellation of the strings program would have been a great adversity for Red Bank's elementary students whose school district directly feeds into the regional high school and its Visual & Performing Art Academy. Little Silver and Shrewsbury also feed directly into RBR, however, the high school accepts students from all over Monmouth County through an audition process and tuition program. Students may apply to one of the eight majors in the renowned VPA program including the string major.
Jeffrey Boga states of the VPA, "I think this is a tremendous program, because kids who have a passion for music can major in it and get a full range of music theory, technology and music history. Students who are serious can go to major schools like Eastman, Westminster, Rutgers, Penn State etc… with scholarships. "
Monmouth Conservatory of Music Associate Director Irina Kovalsky has been welcoming Mr. Boga's string musicians in joint performances for the past three years. Most recently they performed at a concert at the Conservatory in January.
She states, "The kids in high school are very serious musicians who will encourage middle and elementary student to start a music program. RBR is always interested to bring their kids to perform and listen. You see someone who is your age playing, and it always encourages someone when you see them doing something well."
An émigré from the mid-west, Mrs. Kovalsky notes how surprised she was to learn how the tri-state high schools paled in comparison to mid-western high schools that feature strong student orchestras, especially when viewing the proximity to the cultural Mecca of New York City. The cuts to the Red Bank elementary string program were emblematic of that reality. Mrs. Kovalsky stated that the Monmouth Conservatory of Music wants to offer free group music lessons to Red Bank elementary and middle students, who could not otherwise be able to afford them, and seriously desire to hone their musical skills.
She adds, "Music is the most important education we can give young people, because, even as they may enter different professions, music stays with them for the rest of their lives. As soon as a child is touched by music (his/her life) is embellished forever."
For more information on the RBR VPA Academy, visit the RBR website at rbrhs.org. You can learn more about the Monmouth Conservatory of Music at monmouthconservatory.org.