Return to Headlines
RBR Staff Members Honored with Chamber of Commerce's Spinnaker Award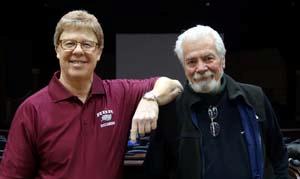 RBR Staff Members Honored with Chamber of Commerce's Spinnaker Award
Red Bank Regional's (RBR) Supervisor Pete Grandinetti and RBR's Visual and Performing Arts (VPA) Academy Drama teacher Joe Russo were recently honored by the Eastern Monmouth Chamber of Commerce with their Spinnaker Award in the category of arts and culture. The gentlemen were presented this honor at the Chamber's 86th annual dinner "in recognition of their support and cultivation of the arts in the community."
Joe Russo has been an award-winning drama teacher with RBR since the inception of the VPA academy. This accolade comes at the denouement of his career as Mr. Russo retires after 32 years guiding RBR's talented drama students.
Joe Russo reflected upon his experience at RBR commenting, "The biggest thrill I get is seeing my students getting great jobs and doing marvelous things. The ability to give every kid the opportunity to experience and develop an appreciation of arts is always what it has been about for me."
Peter Grandinetti has served as a partner with Joe Russo as, initially a teacher at RBR who was also involved with the theater and stagecraft, and, among other supervisor responsibilities, became the supervisor of the VPA program four years ago. He also retires from RBR this year after 15 years of employment with the district.
Mr. Grandinetti states, "I am most gratified on how we have developed the breadth and diversity of our program, as most recently adding a strong strings program and establishing a music technology lab enabling our students to create music. I am always impressed that our kids sound so professional as, for instance, how they perform opera in four different languages. Our students constantly gain local, regional and even national recognition whether it be in studio art, photography, creative writing, dance and music competitions. And of course, there is the amazing quality of our drama students who win Basies on a regular basis thanks to Joe's tremendous tutelage."