Return to Headlines
RBR Honors Its Commended Scholars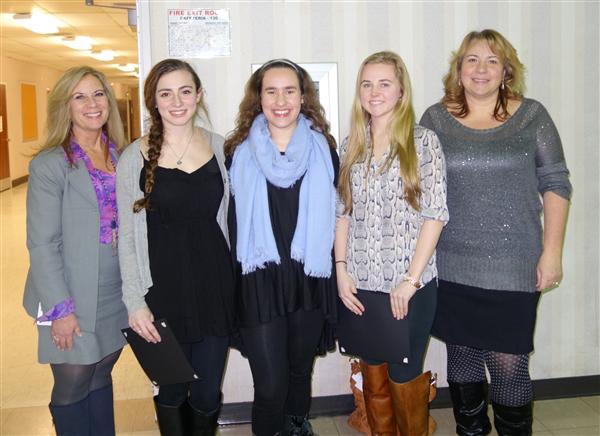 RBR Honors Its Commended Scholars
The Red Bank Regional Board (RBR) of Education recently honored its commended scholars at its January 28 board meeting. Ariel Balaban, Little Silver, Niki Buechel, Little Silver, Mary Cassandra (Cassie) Jain, Red Bank, Nicole Povey, Shrewsbury, were all named National Merit Commended Scholars. These awards are based on the students' performance on the 2013 Preliminary Sat/National Merit Scholarship Qualifying test. The National Merit Scholars represent the top 5% of more than 1.5 million students who entered the 2013-2014 competition. The competition was established in 1955. Additionally, Kyla Robinson, Shrewsbury, was named a National Achievement Scholar. That program, established in 1962, recognizes the top scoring Black American students on the same test. It honors the top 3% of the more than 160,000 students who entered the 2015 National Achievement Program.
Ariel Balaban is a creative writing major in RBR's Visual & Performing Arts Academy. Through her work in the VPA she has earned both Gold and Silver Keys in the National Scholastic Competition for her poetry. She also earned the 2014 AP Scholar Award for high school in the Advanced Placement Program. She is a member of the English and Spanish National Honor Societies, a weekly tutor for Big Brother and Big Sisters. Ariel will most likely study English and Advertising in college but also has aspirations to join the Peace Corp to teach English.
Niki Buechel is enrolled in RBR's Math and Science Academy. She participates in the math league competitions and won the league's certificate for top scorer. As a three season athlete (cross country and indoor and outdoor track) she balances her academic responsibilities admirably as a member of the National English, Spanish, Math and National Honor Societies. For the past three years, she has also served her community as a Little Silver Emergency Service Cadet. She hopes to someday become a civil rights attorney.
Cassie Jain, a student in RBR's Humanities & Social Science Academy, espouses many different passions and interests. She is the Editor of the RBR student newspaper, The Buccaneer, and a musician with RBR's Harp Ensemble. As part of the Future Educator's Association, she regularly volunteers as an aid in an area preschool. Cassie tutors her peers as a member of the RBR's Math Honor Society. She has volunteered as a peer teacher with her National English Honor Society at an RBR summer Honors' workshop. She has also volunteered as a classroom helper in the Red Bank Primary School and a Red Bank church CCD program. She intends to major in liberal arts in college to explore her love of literature, languages and history.
Nicole Povey is a studio art major in RBR's Visual & Performing Arts Academy where she produces beautiful art work. She co-founded the Glamour Gals Club and currently serves as its president. Twice a month, the Glamour Gals visit a local assisted living residence to give the residents some glamour (make-up and nail polish) along with youthful companionship. She is a member of the National Art, Spanish, English and Honor Societies, is recognized as an AP scholar and volunteers as a peer tutor. She participates in the Science and Math Leagues. Nicole has played on the RBR Volleyball team throughout high school while receiving the Academic Varsity Letter every year. In her spare time she plays guitar and piano. Nicole would like to study both psychology and criminology in college.
Kyla Robinson is also a studio art major in RBR's Visual & Performing Arts Academy. She has also explored her love for art during separate summer exploration programs at the Fashion Institute of Technology and the Maryland Institute College of Art. She is Vice President of the RBR National Art Honor Society and has showcased her art in several community shows. She is a member of RBR's Bowling Team. She wants to attend an art college as a fine arts major with a minor in art history to prepare for a career in the arts.