Return to Headlines
RBR Students Bring Awareness to Distracted Driving Follow Them on Twitter - #RBRHSDBD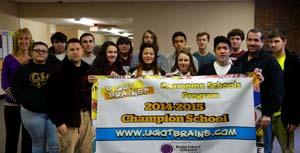 RBR Students Bring Awareness to Distracted Driving
Follow Them on Twitter - #RBRHSDBD
The Red Bank Regional (RBR) TV production students in Mr. Carl Grillo's Interactive Media class have adopted a mission to bring awareness to their peers on the dangers of distracted driving. Late last year, the students entered a competition conducted by the Brain Injury Alliance of New Jersey (BIANJ) and UGotBrains.com. Mr. Grillo's students produced a video in conjunction with the school's Project Prom activity. The video propelled the RBR team to the second round of the U Got Brains competition and can be viewed on YouTube at
https://www.youtube.com/watch?v=PoXdDG2MvVQ
.
RBR is one of 59 schools in New Jersey participating in the program and the three finalists in the competition will win a driving simulator for their high school. These expensive and sophisticated machines will enable students to experience the negative effects of driving while distracted.
For the second round of the competition, the students will embark on a public relations campaign which will include Public Service Announcements (PSAs), bracelets, banners, and having students sign a pledge not to be distracted while driving. The class has also created a Twitter account and encourages the public to follow them at @RBRHSDBD. The student-designed logo, which resembles a New Jersey license plate, stands for Red Bank Regional High School Don't Be Distracted and appears on fliers throughout the school and a banner at the school's entrance.
RBR senior Ryan Toriello, Little Silver, who was instrumental in editing the first video comments on the students' Safe Teen Driving PSA, "This project is important for RBR students because they need to realize the dangers and the consequences of being distracted while driving. They need to understand that they need to be safe while on the roads. Also, the top prize of the driving simulator will promote safe teen driving for years to come. This problem is not something that will disappear overnight and it must be taught to each generation of drivers. This competition prize will help ensure that the message will continue after the contest is over."
Car crashes are the number one cause of death and disability in teens, and according to the U Got Brains website, a teenager is involved in an automobile crash every 11 minutes in New Jersey, one teen dies every week on New Jersey roads.
Student Assistance Counselor Lori Todd, who brought the program to the class' attention, stated, "We wanted to be a part of this program because of the excellent work that the Brain Injury Alliance does with their patients and their state-wide prevention efforts in working with the insurance and corporate agencies dedicated to safe driving. The goal of the program is to be student-driven, which leads to a perfect opportunity for the Interactive Media kids to formulate and produce our PSA campaign on safe driving."