Return to Headlines
RBR Honors its Academic Varsity Letter Recipients
RBR's Academic Varsity Letter Winners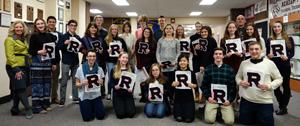 At its January board meeting, the Red Bank Regional (RBR) Board of Education honored its highest achieving academic stars with their very own Varsity Letter. The tradition began many years ago when the school district sought to encourage and honor academic excellence the same way it honors its top athletic achievements, with a varsity letter.
In order to earn an Academic Varsity Letter, students must maintain a straight A in every marking period of the preceding year (September of 2013 through June of 2014 in this case).
The 2013-2014 Academic Varsity Letter winners were:
SENIORS: Fausto Benitez, Riana Katz, Nicole Povey, Niki Buechel, Ellen McCarthy, Natalie VanderVeer
JUNIORS: Jonah Cuozzo, Claudio LoBraico Vincent Novellino, Joseph Ferguson, Andrew Noglows, Claire Toomey,
SOPHOMORES: Tierney Baldwin, Ryan Humelsine, Kayla Neal, Kelsey Ballard, Emma Keegan, Mary Vilardi, Lauren Bevacqua, Lauren Kirk, Robert Villaluz, Ella Brockway, Kevin Laughlin, Emma Westgate, Elizabeth Farrington, Ezekyel Weston, Emily Fitzgerald, Claire McEvoy, Paige Whittie, Chase Hintelmann, Jack McNally, Ashley Houck, Sean Murphy
Left to right: Chase, Claire Macavoy, Jack McNally, Lauren Kirk, Emma Westgate, Ella Brockway, Emma Keegen, Ryan Humelsine, ?, ?, ?, Lauren B, ?, Tierney Baldwin,
Front row – Bobby Villaluz, Ssean Murphy, Claire Toomey, Ashley Houck, Page Whittle, Joe Furgeson.