Return to Headlines
RBR Drama Major Places Second in Shakespeare ESU Competition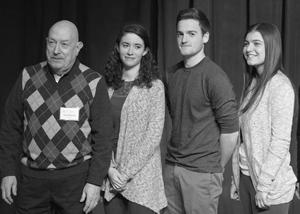 RBR Drama Major Places Second in Shakespeare ESU Competition
On Saturday, February 28, RBR junior Patrick Monaghan of Little Silver finished second place in the English Speaking Union (ESU) Shakespeare Competition sponsored by the Monmouth County ESU chapter. In addition to Patrick, the top winners of the 2014 competition, which featured 12 competitors from all over the State of New Jersey, were: first place winner Naomi Stuart, Glen Ridge, and third place winner Lauren Pelaia, Colts Neck. The first place winner will go on to the national competition held in NYC.
Coincidentally, he follows in the footsteps of his very talented older sister Madelyn, an RRB Visual and Performing Arts Academy (VPA) alumna, in amassing accolades for his dramatic talent. Madelyn had taken first place in that same competition in 2013. It was a very busy week for Patrick who had also just taken first place in the regional Poetry Out Loud competition and goes on to the state competition.
For his performance, Patrick, who recently stared in RBR's Shakespeare's production of Much Ado About Nothing, performed Sonnet 55 and a monologue form Henry V. Patrick is a drama major in the RBR VPA working under the tutelage of RBR drama teacher Joe Russo. He is also a metro scholar at the Two River Theatre Company.
ESU Committee Chairperson Janet Smuga's stated regarding Patrick's performance, "Patrick Monaghan's performance was a nuanced and highly effective portrayal of an intelligent Prince Hall from Henry V, by turns humorous and furious."