Return to Headlines
RBR Junior Wins Regional Poetry Out Loud Competition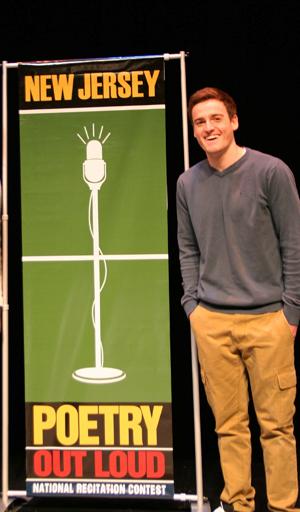 RBR Junior Wins Regional Poetry Out Loud Competition
In late February, Red Bank Regional (RBR) star thespian, junior Patrick Monaghan of Little Silver won the New Jersey Regional Poetry Out Loud Region 3 Semi-finals held at the Two River Theatre in Red Bank. Patrick, who is a Visual and Performing Art Academy (VPA) drama major, is the first student to advance this far in the competition in the six years that RBR has been participating in the event. Student competitors were represented from numerous towns in Monmouth, Ocean, Middlesex and Mercer Counties. He shared the honor with Nicole Jenkins, of Piscataway High School. The two went on to compete in the State Championship in Princeton on March 13.
For his first place regional performance, Patrick performed "Self Inquiry Before the Job Interview" by Gary Soto, "Sonnet 55" by William Shakespeare, and "So This is Nebraska" by Ted Kooser.
RBR English Teacher and Poetry Out Loud Coordinator for RBR Andrew Forrest comments on Patrick's performance: "Patrick is an extremely talented student. He chose three poems with three distinctive voices. What makes Patrick's performance so special is that he embodies each speaker uniquely and presents three distinct performances, displaying his range as a dramatist and poetry enthusiast. The beauty of the Poetry Out Loud program is that it requires students to embody someone else's shoes, and Patrick does this three different times exceptionally well."
Patrick also recently placed second in the English Speaking Union Shakespeare Competition. He is a metro scholar at the Two River Theatre and has had lead roles in both RBR And community theatre productions including Shakespeare's As You Like It, A Midsummer Night's Dream, and Much Ado About Nothing, He also starred in Little Mermaid and Tartuffe.
He states about his latest success, "I definitely felt that performing in drama class everyday in front of an audience of my peers really helped. My teachers have all been very supportive including my drama teacher Mr. Russo, Mr. Forrest and my AP English teacher Ms. Van Ness. It was very exciting to be representing RBR as one of only 12 schools at the State Championship."