Return to Headlines
RBR's Jill Maline Named Monmouth County Counselor of the Year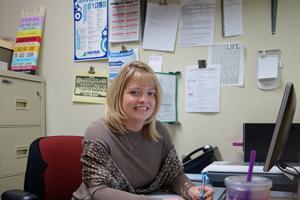 RBR's Jill Maline Named Monmouth County Counselor of the Year
Red Bank Regional Guidance Counselor Jill Maline was recently named Monmouth County Counselor of the Year by the
Monmouth County School Counselors' Association
. She will be honored at a luncheon in June by her peers in the association.
RBR Guidance Director Dawn Kaszuba states her counselor, "Ms. Maline's commitment to her students, the district and the profession are evident in all she does. Whether advocating for her students, collaborating with teachers during professional development, or working with the Monmouth County School Counselor Association to bring important programs to her colleagues, Ms. Maline is a compassionate, empathetic and fearless leader. She is a credit to Red Bank Regional and the Bucs she loves so much!"
Middletown resident Jill Maline received her master's degree in Educational Counseling from Monmouth University in 2009, where she was admitted to the National Honor Society in Counseling. She also holds a certification as a teacher of students with learning disabilities. Ms. Maline earned her bachelor's degree in Hispanic Studies from Mount Saint Mary College in 2005. She began her counseling career at RBR in 2010. In addition, to her counseling career at RBR, Ms. Maline serves as the co-adviser to the classes of 2014 and 2018 and is the RBR head Dance team coach and assistant cheerleading coach.
She states of her peer's accolade, "I am still in the relatively early stages of my career – this is my fifth year as a school counselor, and so I am humbled by the fact that my colleagues in Monmouth County feel that I possess the characteristics that warrant this honor. I love my profession because I get to spend every day with different students; planning for their futures and making sure they achieve success while they are at RBR. It makes each day so exciting."