Return to Headlines
RBR Signs Soccer, Lacrosse and Track Stars to Play Division One Sports on National Sign In Day
RBR Signs Soccer, Lacrosse and Track Stars to Play Division One Sports on National Sign In Day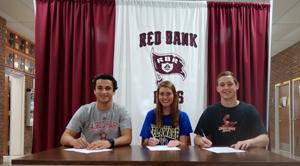 Red Bank Regional (RBR) counts a soccer midfield man, Sam McPherson (Red Bank) lacrosse midfield man, Dan Vilardi (Little Silver) and 800 meter and mile runner Marissa Albano (Neptune City) among their athletes who received scholarships to play Division I sports in college next year and signed on April 15, National Signing Day. The student athletes will be attending Sacred Heart University, Chestnut Hill College and the University of Delaware respectively.
Sam McPherson a student in RBR's Sports Medicine and Management Academy had a high school record of 40 goals and having 40 assists in soccer. Last year, he was selected for the 18- person elite team to represent his Region I US Soccer Youth Olympic Development Program in the South African International soccer tournament. He plans to study pre-med at Sacred Heart University.
RBR Soccer Coach Sean Reid states of Sam, "Sam is a player whom you never want to see graduate. This time of celebration is also of reflection. Sam along with several other alumni have left a legacy that should be promoted and emulated on and off the field. He is a wonderful son, young man first and a great student athlete."
Dan Vilardi is also part of RBR's Sport Medicine and Management Academy. He also wrestles for RBR. Dan intends to study a business curriculum at Chestnut Hill College. His career stats in lacrosse include 37 goals, 27 Assists 64 career total points and 200 ground balls.
Marissa Albano is a creative writing major in RBR's Visual & Performing Arts Academy. She intends to study the physical exercise science in college with aspirations to become a physical therapist.
Her Coach Chris Desiere states of his student runner, "Marissa is a throw-back athlete that loves to compete. She works hard every day and has really dedicated herself to become the runner she is today. The University of Delaware is getting a runner that will certainly continue to improve. We will be very proud to watch her run cross country and track at such a great school."