Return to Headlines
RBR Senior among Winners of the Princeton Race Relations Award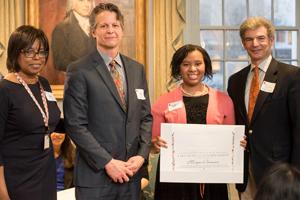 RBR Senior among Winners of the Princeton Race Relations Award
Red Bank Regional (RBR) senior Morgan Brunson (Red Bank) was among six recipients of five schools represented of the prestigious Princeton Race Relations Award. She received the award at the 2015 Princeton Prize In Race Relations Ceremony & Reception held at the Ivy League university on April 15. The other recipients included: Tatianna Sims, Princeton High School; Mara Peoples, of The Hun School of Princeton; Jessica Mekeel and Sarika Bhattacharjee, of Montgomery High School; Adam Mohsen-Breen, of Moorestown the Friends School.
According to Linda B. Blackburn, Chair of the Central/Southern New Jersey Princeton Prize Committee, "The Princeton Prize in Race Relations was established by Princeton University to 'promote harmony, respect, and understanding among people of different races.'" She adds, "Each year we recognize those students whose efforts have had a significant, positive effect on race relations in their schools or communities." Ms. Blackburn, said there were 30 applications from the Central/Southern New Jersey Region for the prize this year.
Morgan Brunson, of Red Bank Regional High School, earned a certificate of achievement for organizing, hosting and performing in a black history month dance assembly. In addition to her Certificate of Achievement, Morgan was also asked to attend the national Princeton Prize Symposium in Race Relations held at at the Woodrow Wilson School of Sociology at Princeton University on April 25th.
"There is value in this work," she told the winners during the award ceremony on the porch of the John Maclean House at Princeton University on April 15. "You are the next generation. I'm relying on you to change the world."
 Morgan, who was a long-time dance student of the Asbury Park Dance Academy and a Woodwind major in RBR's Visual & Performing Arts Academy, organized a special celebration for Black History Month at RBR, hosting the Asbury Park Dance Company (a predominantly African American dance school) in a dance, poetry and musical program in which she and her sister, RBR Freshman Dance Major Tyler Brunson, also performed. The event was a spectacular visual representation of the black experience in America from its slave roots including numbers on the auction block, African American folklore, and African American struggles in ballet & current society to modern day issues.
The program sought to promote racial understanding by providing a visual experience of African American History through lyrical dance, combined with storytelling. The classical ballet performance exposed the diverse student body to the talent of African Americans in this underrepresented art form. Morgan believes the teaching staff also benefited by being exposed to minority classical ballet dancers and by hearing little known stories of black history.
She states of the program she promoted, "The idea to bring the youth ensemble's presentation to my school came from watching my high school's Black History Month assemblies as an underclassman. Although a lot of effort is put into the school's Black History Month assemblies, it taught the same simplified story of African American history that everyone has known since elementary school, and does not go in depth about what really occurred."
She was sponsored for the award by RBR's anti-bullying officer Cheryl Washington to comments, "Morgan is a talented student and a leader who advocates for social justice and diversity. She has the ability to influence students and staff with her creativity. She is deserving of this award because of her belief in promoting racial harmony, which is expressed in the numerous activities in which she participates."
For more information about the Princeton Prize in Race Relations, you can visit the website at http://www.princeton.edu/pprize/, send an email to emailpprize@Princeton.edu or call 800-742-1036.