Return to Headlines
RBR Inducts Five into the 2015 Distinguished Alumni Hall of Fame
RBR Inducts Five into the 2015 Distinguished Alumni Hall of Fame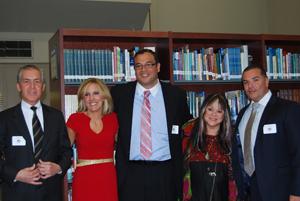 On April 24, the Red Bank Regional (RBR) Buc Backer Foundation held its fourteenth annual induction of Distinguished Alumni into its Hall of Fame. This year's inductees included a most impressive array of people. Howard D. Scher, Esq. Class of 1963, who is a director of the famed Innocence Project in Philadelphia; "Melanie" Safka Scherkeryk, Class of 1964, the award-winning rock-n-roll singer songwriter of Woodstock fame; Alisyn Camerota, Class of 1984; the famed CNN journalist who co-anchors the New Day daily morning TV news show; LeRoi Royal Jones, Ed.D., the former All American Football star, municipal servant and educational administrator and Sergeant Juan Carlos Sardo, local community hero and member of the Red Bank Police Force.
The V.I.Ps were treated to an amazing brunch by RBR Culinary Art Students while being serenaded by RBR Visual and Performing Art Academy pianists. Senator Jennifer Beck and Red Bank Mayor Pasquale Menna along with Shrewsbury Mayor Donald Burden bestowed proclamations upon the distinguished alumni. Later on, at the RBR theatre and in front of a packed assembly of RBR students, RBR Buccaneer student newspaper reporters and editors introduced each alumnus by reading the biographies they prepared from their personal interviews.
RBR junior Claire Toomey discussed Howard Scher's pro bono work which has helped free people from prison who were falsely convicted of crimes. He addressed the students with three poignant stories of people in need of justice, which he was working to provide through several social justice organizations.
He told the students, "It was here at Red Bank High School where I learned from my teachers and classmates the organizing principles of my life – treat your neighbor as you would like to be treated and do something to try to repair the world."
Juniors Cecelia Gunderson and Amy Cavallo told about Melanie's initial struggles in high school as the "square peg that didn't fit into the proverbial round hole." Adding, "This however turned out to be what set her apart and made her a star and a trailblazer in a new American pop culture."
Melanie responded by treating the audience to a mini concert performing some of her signature songs with her son, Beau Jarred Schekeryk, accompanying her, much to the acclaim of the audience. She stated, "I only wished my father could see this."
Sophomore Ella Brockway spoke of the challenges television journalist Alisyn Camerota "faces on a daily basis as a journalist in today's society, with a 24-hour news cycle and news-worthy events happening around the globe." Alisyn, as well as her fellow inductees, later visited an RBR classroom where students asker her questions including on how she was able to attain such a high-profile position in her field.
She responded, "It is not about being smarter or having the best connections (I had no connections to TV news). It's about working the hardest throughout your career." This appeared to be the common message that ran through all the remarks the inductees shared with the RBR student body.
Senior Jack McLoone wrote about Dr. LeRoi Royal Jones, "He has made a lasting impact with groups of people that are usually left behind by the educational system, refusing to write them off as lost causes." Dr. Jones is currently the Assistant Principal for the CPC High Point High School in Morganville, NJ, for high school students in need of an alternative learning environment.
Senior Siobhan Hansen and Junior Alex Sosa described the immigrant success story of Juan Carlos Sardo who rose to become a sergeant in the Red Bank Police Force and leader in the Hispanic community.
He told the students, "So I encourage you to find your calling, set goals, make plans to achieve those goals, put your plan in action, be passionate and strive towards your goals with an indomitable spirit and with enthusiasm; and do all that you do with excellence."
The RBR Distinguished Alumni Hall of Fame is sponsored by the RBR Buc Backer Foundation a nonprofit organization, operated by RBR parents to support the students' educational experiences at RBR. Their mission includes raising funds to augment a fiscally tight budget and providing other support services to the entire RBR community. Judy Noglows and Cathy Reardon HOF Committee co-chairpeople coordinated this year's event.