Return to Headlines
RBR Hosts "Voices of Change"—A Community Performance of Voices Young and Old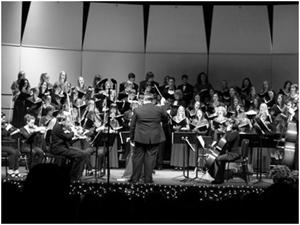 RBR Hosts "Voices of Change"—A Community Performance of Voices Young and Old
On Thursday, May 21, at 7 pm, the Red Bank Regional (RBR) Visual & Performing Arts Academy at RBR will host the world premiere of "Voices of Change," an oratorio, composed and conducted by RBR music teacher Kristopher Zook. The event features the voices of numerous high school choirs, area festival choirs as well as the Count Basie Theatre Central Jersey Youth Chorale, with special solo performances by Metropolitan Opera singer Jeremy Galyon) and Kean University voice professor Katherine Harris. Tickets are $ 10 and are available at the door, or in advance by contacting 732-842-8000, ext. 227. RBR is located at 101 Ridge Road in Little Silver.
The concert commemorates the 100 Anniversary of the Monmouth County Chapter of the American Guild of Organists (AGO) and will also feature examples of the rich majesty of solo organ works composed by past and present Monmouth AGO members performed by chapter members including RBR music teacher and AGO Dean, Camille Thompson.
"Voice of Change" is a multi-generational choral work with a chamber orchestra and will include texts by poets, philosophers, political figures and authors including: Confucius, Euripides, Benjamin Franklin, Henry David Thoreau, Chief Seathl, Winston Churchill, Martin Luther King, Gandhi, Mother Teresa, Nelson Mandela, Dalai Lama and more.
Kristopher Zook comments on his composition, "The work is composed for multiple choirs and soloists and each group represents the voice from various stages of life. I am thrilled to stage this production during the centennial of the American Guild of Organists which has long been a supporter of community, school, church and professional organ and choral music in Monmouth County and throughout the United States."
The voice of young children will be represented by the Count Basie Theater Central Jersey Youth Choral. Transitioning to the voice of older children will be the Red Bank Regional High School Concert Choir, while the voice of young adulthood will be sung by the combined Matawan-Aberdeen Regional Choir and the Central Regional High School Choirs (Andre Baldassarini and Beth Moore, Directors). The voice of mature adulthood will be a festival chorus consisting of area professionals and local church choristers. Representing the voice of the ancestors will be the soloists Metropolitan Opera singer Jeremy Galyon (baritone) and Kean University voice professor Katherine Harris (soprano).