Return to Headlines
RBR's Top Female Athlete Will Compete for Monmouth University
RBR's Top Female Athlete Will Compete for Monmouth University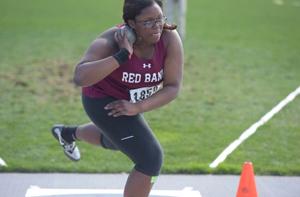 Red Bank Regional's (RBR) track and field star, discus and shot put thrower Sarena Dixon of Red Bank, graduated on June 19, and then continued to represent her school in the New Balance Outdoor National Track and Field Championship that weekend. During her track and field career she garnered many accolades including setting the record for Shot Put Throw at 43' x 6.5" in the Monmouth County Championship Meet.
She states of that career highlight, "It was really insane, I wasn't having a great day and went into finals seeded third. It was a very close competition and I just edged them out (the first and second seed.) "
Her other accolades include:1st Team – All –County Outdoor Track; 1st Team Central Jersey Group 3 Championship- Shot Put and Third Central Jersey Group 3 Championship in Discus. She also made 2nd Team Group II. She qualified for the Meet of Champions in addition to the aforementioned New Balance National Championship.
Her direct event coach Jeff Mauro states of his star athlete, "Sarena Dixon has been a joy to coach throughout her four years here at RBR. I knew from the minute she stepped in the shot put circle her freshman year that she was going to be something special. It turns out that I was right! She is leaving RBR as one of the most storied throwers in RBRHS Track and Field history."
Sarena will be competing in track and field for the Monmouth University Hawks next year on scholarship. Sarena was a member of RBR's Math and Science Academy. She gained admittance to the National Math Honor Society and tutored her peers in her favorite subject during lunch and study periods. She has decided on pursuing a business degree at Monmouth with a major in Accounting. Sarena accomplished all this while sustaining a heartbreaking personal tragedy just two years ago, when her beloved older brother and RBR basketball star Albert Martin died from a heart ailment.
RBR' s Girls' Track and Field Coach Brendan McGoldrick comments, "Sarena will be going to Monmouth University this fall to compete for one of the top field teams on the East Coast, under Coach Abe Flores. Sarena has spent four years garnering accolades, and became known as one of the all-time greats in the Shore Conference. Her presence in the throwing circle and on the team will be sorely missed next year, but we are all excited for her making the commitment to Monmouth University and the sport of track and field."