Return to Headlines
RBR Administrator Honored by New Jersey Senate
RBR Administrator Honored by New Jersey Senate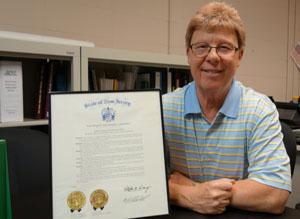 It is often remarked that people will change their professions or reinvent themselves several times during there working life. Peter Grandinetti, West Long Branch, did this following a path that began as an educator transitioned to a successful business man and entrepreneur and then came full circle to an educator. Mr. Grandinetti retired on June 30 from the Red Bank Regional (RBR) school district as its four-year academy supervisor. Along the way, he garnered many accolades including his latest, a resolution from the New Jersey Legislature.
Peter Grandinetti was cited by the legislature for his 14-year career at RBR, as "instrumental in the development and implementation of the Four-Year Academies at Red Bank Regional High School, (and) demonstrated an uncommon level of knowledge, commitment, and creativity…"
Peter Grandinetti began his career in education as an industrial arts teacher following his service in the U. S. Navy. He also coached several sports until he decided to transition to the business world. He enjoyed a long and very successful career in the insurance industry and left to develop several business ventures. He was doing very well when some old friends, and then administrators for RBR, asked him if he would want to return to teaching.
He missed the classroom and seized the opportunity to make a positive impact on young lives as RBR pursued an academy model of education. He soon ascended to the Supervisor of RBR's Academies of Information Technology, Finance and Pre-engineering. He brought his business acumen to his job as well as his professional attire standards believing that he set an example for his students. He introduced professional alliances to the program including Project Lead the Way. He strongly encouraged regional and national competitions in the IT and engineering area. Five years ago, when a long-time supervisor of the acclaimed Academy of Visual & Performing Arts (VPA) retired, Mr. Grandinetti agreed to take on that supervisory role too. A great patron of the arts, he had a good relationship with the VPA teachers from the time he helped build the RBR stage production sets, when he first joined the staff. He counts as one of his best friends, RBR's original VPA drama teacher, Joe Russo, who also retired this year. He additionally supervised the culinary and early childhood education programs which have both grown significantly under his tutelage.
He states of his career at RBR, "I am most proud of my staff because they made RBR a leader in the Visual & Performing Arts and STEM education. They have made the classes better and more competitive. I just gave them the tools." He adds, "It has been a great run, I love the place (RBR) and especially seeing how academically sound we are. I am so happy I had something to do with it."