Return to Headlines
Washington Post Once Again Names RBR As One of America's Most Challenging Schools
Washington Post Once Again Names RBR As One of America's Most Challenging Schools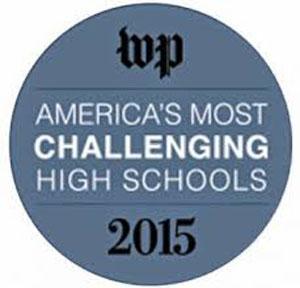 For the third year in a row, Red Bank Regional (RBR) has been cited by the Washington Post as one of America's Most Challenging High Schools. The list was released in the spring of 2015. RBR takes second position behind Rumson Fair Haven in Monmouth County. It is ranked 41 out of 100 high schools on the list for the most challenging high schools in the state. Nationally, it is listed as 1356 out of 2300 schools that made the list.
The Washington Post columnist Jay Mathews developed The Washington Post "challenge index" using a ratio based upon the number of Advanced Placement, International Baccalaureate and Advanced International Certificate of Education tests given at a school in 2014, divided by the number of graduates that year.
According to the Washington Post web site, "The Challenge Index considers college test participation a better measure of school success than test scores, which largely reflect parental income."
RBR Principal Risa Clay comments on RBR's prestigious position as a "most challenging school" stating, "RBR has always followed the philosophy to challenge all students. We have made a distinct effort to open access to our most rigorous courses for all students. Additionally we offer a number of dual credit courses in most major subject areas. RBR, along with our dedicated staff, provides unique support for student success including peer tutoring, community based tutoring, and our school based counseling center, our comprehensive guidance program and the nationally acclaimed AVID program. Throughout the summer we offer coursework that prepares our students for honors, AP and IB courses."
All students enrolled in our AP and IB classes are required to take the standardized exams. Many districts only offer the exams to their highest performing students. The RBR Board of Education also subsidizes the cost of these tests to mitigate economic hardship.
For more information on the Washington Post "Most Challenging School List" visit www. http://www.washingtonpost.com/local/education/how-americas-most-challenging-high-schools-works-the-selection-method/2015/04/14/cfdd9e44-e30a-11e4-905f-cc896d379a32_story.html