Return to Headlines
RBR VPA Summer Camp Presents Hollywood Hillbillies
RBR VPA Summer Camp Presents Hollywood Hillbillies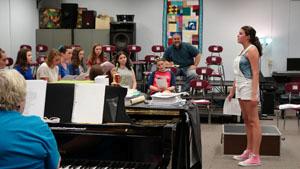 The Red Bank Regional (RBR) Visual & Performing Arts Summer Camp will present Hollywood Hillbillies on Thursday, August 6, 2015, at 7 pm at the RBR auditorium. Tickets are $5 per person. RBR is located at 101 Ridge Road in Little Silver New Jersey. The musical comedy was based on the book by Tim Kelly with music and lyrics by Scott Keys. Similar to the famed Beverly Hillbillies, the production features a collision of simple American Mountain folk with Hollywood and nefarious oil and gas-seeking interlopers. Over 70 students will take part in the musical production, and a special preview art exhibit will feature the creative art work of other campers.
The RBR Summer Academy for the Visual & Performing Arts, which is supervised by RBR music teacher Kristopher Zook, provides an exploratory visual and performing arts program for middle school students and rising freshmen. Many of RBR's own Visual and Performing Art Academy students have attended this program. The program is offered over five weeks in the summer and is divided into a first half, two week rotation of all visual and performing arts including dance, drama, crafts, creative writing, piano, percussion, recording arts, visual art and vocal music. During the final three weeks, campers choose to concentrate on either the musical theatre tract (including acting, dancing and singing) or the visual arts tract, which includes fine arts and handcrafts.
The program operates with staff members who teach in the RBR Visual and Performing Arts Academy during the school year as well as guest artists. Many RBR VPA students and graduates return each summer as counselors to the campers. The program is totally self-sustained by tuition and there is always some funding available to provide scholarships for those who demonstrate a strong desire to participate but cannot afford the program.