Return to Headlines
RBR Offers Many Different Programs All Summer Long
RBR Offers Many Different Programs All Summer Long
Summer Slam Plants the Seeds of a New Community and Academic Success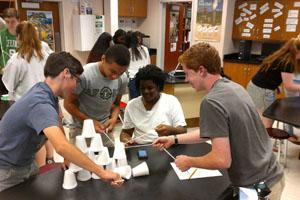 Over the past decade, Red Bank Regional High School (RBR) has experienced remarkable academic success by every measure. One of the reasons is on display during the entire month of July. Known as Summer Slam, the freshman transition program plants the seeds of a new community of high schoolers formed from many different communities. These include primarily the sending towns of Red Bank, Little Silver and Shrewsbury and other Monmouth County towns where K-8 districts offer RBR's four-year academies as an alternative to their eight grader's high school choice. With over 100 students enrolled in this voluntary program, over 1/3 of the incoming freshman class is represented. Summer Slam is operated by The SOURCE, RBR's School Based Youth Services Program and staffed by RBR Freshman Academy teachers.
The emphasis is on academics in a fun, collegial atmosphere. For example, geography is explored in a scategories game. Grammar and vocabulary skills are honed utilizing versions of Scrabble, trivia and Jeopardy. Students conduct science experiments in measurement by calculating their running speed through the RBR halls. Math problems are solved using group dynamics.
This year, a culminating activity took place at Thompson Park in collaboration with the Community YMCA. Students solidified their relationships with their new classmates competing in outdoor field games including tug of war, kickball, relay and potato sack races and other team-building skill activities.
RBR SOURCE Director Suzanne Keller states of the Summer Slam's sustained success, "The program has been successful because it enables students to better transition to high school while maintaining and sharpening their academic skills. Just as importantly, it provides an opportunity for students to become aquatinted with their future classmates and teachers at their high school."
RBR utilizes the summer months to give other students an edge on the new school year. Rising sophomores, juniors and seniors were also busy in the pre/AP (Advanced Placement) and IB (International Baccalaureate) courses and a special IB writing program. Here teachers emphasized the skills students need to enhance in order to be successful when taking the most rigorous classes the school has to offer. RBR also continues a special program introduced last year to prepare seniors for the complicated and daunting college application process.
The RBR building is also host to a regular summer school program for credit make-up, and welcomes students from other school districts. RBR's special education students attend an extended school year program with their teachers. Enrichments programs are offered for English Language Learners and other students using AVID skills.(AVID is an evidence-based college preparatory program.) Additionally, The RBR Academy of Visual & Performing Arts (VPA) offers a five-week VPA visual and performing musical performance camp. The camp's culminating activity, the musical, Hollywood Hillbillies will be presented on Thursday, August 6, at 7 pm in the RBR auditorium.
Principal Risa Clay comments on her these many summertime programs, "While summertime is a break from school for most school districts, RBR traditionally uses these months as preparation for another successful year of education."