Return to Headlines
RBR VPA Summer Academy Staged Hollywood Hillbillies
RBR Summer Academy Staged the Spirited Hollywood Hillbillies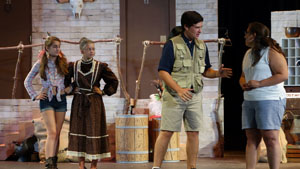 On August 6, The Red Bank Regional (RBR) Visual & Performing Arts (VPA) Summer Camp presented Hollywood Hillbillies at the RBR Theatre. The musical comedy was based on the book by Tim Kelly with music and lyrics by Scott Keys. The spirited production featured lively music and high-kicking dancing. The main roles were apprised by: Mara Campolattaro, Rumson, Alexa Kirkpatrick, Shrewsbury, Brendan Loftus, Little Silver and Camille Pugliese, Red Bank, Kie Antone of Leonardo, Lily Pena,Red Bank, Michael Bogardus, Fair Haven, Penelope Hill, Little Silver, Shealyn Grant, Little Silver, Brady Ann Lynch, Little Silver, John Tuohy, Little Silver, Ben Zatorski, Red Bank and Victoria Pater,Red Bank.
The show was the culminating activity of the long-running RBR VPA Summer Camp. The student performers were Monmouth County youth from rising fifth to ninth graders.
Kristopher Zook, the Summer Camp Director and founder stated of his performers, "This group of campers was exceptional in their work ethic, generous spirit and talent. I look forward to working with many of them again in both future summer camps and in the high school programs."
Over 70 students took part in the musical production, and art exhibit, which featured the creative art work of other campers, many of whom choose to attend RBR for its renowned Academy of the Visual and Performing Arts program. RBR VPA graduates returned to the summer program as interns working with RBR VPA teachers who guided the campers through a two week rotation of all visual and performing arts including dance, drama, crafts, creative writing, piano, percussion, photography, visual art and vocal music. During the final three weeks of the program campers chose to concentrate on either the musical theatre tract (including acting, dancing and singing) or the visual arts tract, which includes fine arts and handcrafts. For more information on the RBR VPA program, visit the RBR website at www.rbrhs.org.