Return to Headlines
RBR Rated as Top NJ High School by NJ Monthly
RBR Rated as Top NJ High School by NJ Monthly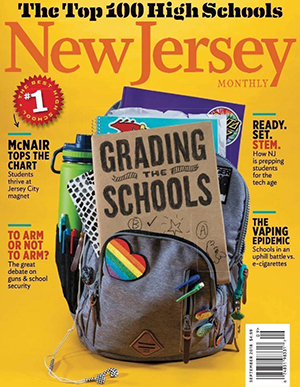 Once again Red Bank Regional (RBR) has made the prestigious list of top high schools in New Jersey, which is produced by the NJ Monthly magazine. RBR is now rated # 39 in the state up substantially from #89 in 2016. (The rankings are conducted biennially.) RBR is also ranked the second best high school in Monmouth County. This substantial improvement in rank reflects continual improvement in a number of areas including the increase in RBR students taking at least one Advanced Placement (AP) or International Baccalaureate (IB) course. Only public schools were employed in the analysis. Among the 350 schools ranked were six charter schools.
RBR Superintendent Dr. Louis Moore states of this result, "This is a great accomplishment and reflects the excellence of our administration, faculty, as well as the support we receive from our community and our Board of Education."
New Jersey Monthly employs a three-point weighted criteria based on measures of School Environment, Student Performance and Student Outcomes. Measures utilized under School Environment include: student/faculty ratio; number of AP and or IB classes; number of students taking AP/IB tests in any subject; number of students taking at least one course in visual and performing arts. Student Performance statistics include the number of students scoring at or above 530 in math and 480 in reading and writing on the SAT and higher than a 3 or 4, respectively, on AP and IB tests. Student Outcomes include the four-year adjusted cohort graduation rate (taking into account graduation rates from original ninth grade enrollment) and the percentage of students enrolled in a two or four-year college after 16 months of high school graduation.
For more information on the NJ Monthly Top High Schools, visit their website at https://njmonthly.com/articles/towns-schools/the-top-new-jersey-public-high-schools-2018/.