Return to Headlines
NJ Dept. of Ed Visits RBR to Learn about Award-Winning CTE Programs
NJ Dep. of Ed Visits RBR to Learn about Award-Winning CTE Programs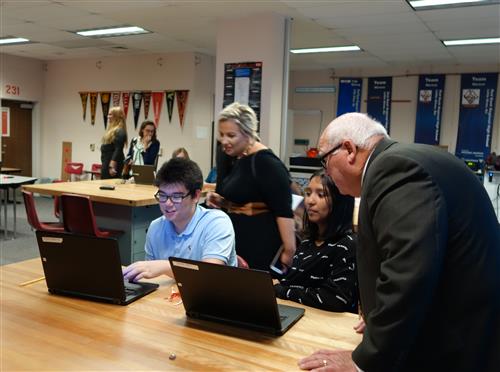 On Friday, September 21, NJ Department of Education Assistant Commissioner Dr. Linda Eno, Monmouth County Superintendent Dr. Lester Richens, a large contingent of officials from the NJ Department of Education and state board members visited Red Bank Regional (RBR). The group's mission was to learn firsthand about the schools long-standing, award-winning CTE programs. CTE or Certified Technical Educational programs are colloquially known as Red Bank Regional's career academies.
RBR has offered these programs to their students from their sending towns of Little Silver, Red Bank and Shrewsbury as well as to tuition-paying students from around Monmouth County. Approximately one half the student body is enrolled in a career academy. RBR's Visual & Performing Arts Academy was founded in 1983 and is the only state approved VPA CTE program in Monmouth County and has been designated as a New Jersey Model School for the Arts. Additionally, RBR offers CTE academies in Engineering, Information Technology, Finance and Early Childhood Development. Students in the academies continually earn many accolades in regional, state and national competitions. RBR is also a comprehensive high school offering a large number of AP classes, dual credit courses and an International Baccalaureate Diploma program. It also has more sports teams and extra-curricular activities than any other high school in Monmouth County.
CTE supervisors Adam Recktenwald and David Fusco presented an overview of the programs and led a tour of the school were the visitors were able to interact with the students in their classrooms engaged in the arts, engineering, and computer technology.
RBR Superintendent Dr. Louis Moore stated, "It was a productive and informative visit. The County Superintendent and the Department of Education Assistant Commissioner are engaged in a state initiative to increase their knowledge of CTE programs and their expansion throughout the state of New Jersey. We are always proud to display our outstanding academies and appreciate the Assistant Commissioner and the state board of Education for taking the time to visit our school."