Return to Headlines
RBR World Language Teachers Explore Program to Increase Student Language Fluency
RBR World Language Teachers Explore Program to Increase Student Language Fluency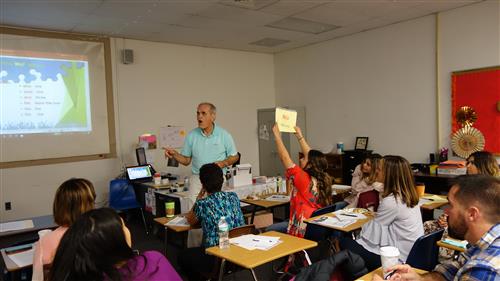 While Red Bank Regional (RBR) students were on holiday for Columbus Day on October 8, their world language and ELL teachers took a class in German. It was a very lively, gesticulating class taught by Blaine Ray, the inventor of a special foreign language instruction method called Teaching Proficiency through Reading and Storytelling (TRPS). RBR Italian teacher Amy Eagelton underwrote a grant from The Red Bank Regional BUC Backers to finance the all-day workshop. World Language and ELL teachers from the school district's sending schools of Little Silver, Shrewsbury and Red Bank were invited to share in the instruction.
Ms. Eagelton wrote the BUC Backers about the program explaining, "So often, students do not feel connected to their foreign language classroom or lessons. TPRS reaches students in a way that worksheets and a textbook can't. It is an engaging and realistic way to learn a foreign language."
Mr. Ray demonstrated this method to the packed room of educators in a language no one admitted any expertise – German. (RBR's world language choices include Spanish, French, Italian and Chinese.) Early on in the class, the teachers were answering the instructor's questions in full sentences in German. The method's success depends on constant repetition of questions which students answer in the foreign language. The method is engaging because together the teacher and student construct a narrative that grows and changes. However, the students receive constant feedback from the teacher, a method called Comprehensible Input, so they are answering correctly. Consequently, the lesson does not progress until the teacher is assured the student comprehends the material by answering the questions correctly.
Mr. Ray explains, "What they get really good at is verbs and the repetitive feel of high frequency words…. There is a mental representation of language that comes from input, but that is not the ability to talk, that comes from interaction. It is that input plus action that gives them the fluency."
The program is adaptable in higher level courses of the language since the narratives are only made more intricate as the complexity of the story increases. Mr. Ray created this program over 20 years ago. He taught high school Spanish in both Oregon and California. At one point, he reported that his high school students passed more AP tests than 13 other high schools in his district combined. The movement has grown organically among language teachers as a preferred methodology for teaching foreign language. Mr. Ray has presented his program throughout the United States and other countries. He has written many books and materials to support his method and curriculum.
RBR Spanish and English teacher Keith Savarese commented on the program, "I found the workshop to be very refreshing and useful. I used the circling activity in my class and found that many more students were participating than usual. It made the class very enjoyable for everyone, myself included."
Amy Eagelton adds, "It was such an honor to have Blaine Ray, the "father" of TPRS, at RBR to train our teachers and teachers from the middle schools. I plan to incorporate more TPRS into my lessons, because it is an amazing, proven method to use in all of the levels we offer. I currently have a few Total Physical Response stories that I use in my classes, which are different from Teaching Proficiency through Reading and Storytelling (our workshop); now, I feel that I have the training to try this storytelling method to increase oral, writing, and reading fluency for my students. In years past, I saw great growth with my Total Physical Response stories. I can't wait to see my students' skills explode with Blaine Ray's storytelling method."
For more information on Blaine Ray and TRPRS visit their website at www.tprsbooks.com.