Return to Headlines
SecondAnnual RBR Athletic Hall of Fame Inducts Members and Teams Spanning 81 Years
SecondAnnual RBR Athletic Hall of Fame Inducts Members and Teams Spanning 81 Years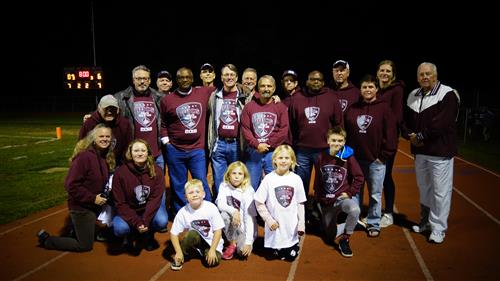 At its September 27 second annual dinner, the Red Bank Regional (RBR) High School Athletic Hall of Fame Committee honored 23 individuals and four teams that have contributed to RBR's rich athletic history over the past nine decades. These included student athletes, coaches, athletic directors and a long-time beloved groundskeeper.
The individual inductions commenced with Class of 1927 four-sport athlete Eddie Leddy who played baseball, basketball, football and ran track. The honors concluded with Class of 2003 Mary McCue who was described as one of RBR's most talented swimmers.
Many inductees were multi-sport athletes. Joe Rosati (Class of 1932) played football, basketball and track. Many parlayed their athletic talents to play at the collegiate level. Three-sport athlete Bill Geroni (Class of 1940) played football for Muhlenberg College. Three-sport athlete Paul Hall (Class of 1959) played both basketball and baseball at Lincoln University in Pennsylvania. Three-sport athlete Robert "Sarge" Taylor (Class of 1965) played football for William Paterson College where he served as captain for three years and was inducted into that college's Hall of Fame. Milton Gaylord (Class of 1967) played basketball for St. Augustine's College in Raleigh, NC. He later earned a masters'degree and began a teaching and coaching career that spanned 30 years. Three-sport athlete Rick Nowell (Class of 1967) played both basketball and football for Lafayette College. Upon graduation he was invited to the Jet's training camp and later optioned to the Bridgeport Jets. Three-sport athlete Charles Taylor (Class of 1970) graduated from Glassboro State College (now Rowan University) and was called for tryouts for the Philadelphia Bell (WFL), the Washington Redskins and the New York Jets. He taught and coached for over 30 years. Three-sport athlete Tim Johnson, (Class of 1977) played football for Southern Methodist University. Three-sport athlete Chris Rose (Class of 1978) was one of RBR's most diverse athletes winning 12 varsity letters. He played for Stanford University where he was a four-letter winner and three year starter on the varsity football team.Michelle-Samuels-Jones (Class of 1990) ran indoor and outdoor track at the University of Virginia. Mark Donnelly (Class of 1993) played basketball for Davidson College. Kyle Le Baron (Class of 1995) played soccer at Monmouth University.
Other inductees included Dominick Gambacorto (Class of 1952) who played baseball and football and was awarded the Most Outstanding Player from the three big football teams that existed at that time (Asbury Park, Long Branch and Red Bank,). Lonnie Allgood (Class of 1972) was a three-sport athlete who graduated Syracuse University on a full football scholarship and was drafted into the NFL where he played for the Cincinnati Bengals, New Orleans Saints and the Buffalo Bills. He won the Ty Lewis Award. Pete Marascio (Class of 1932) played semi-pro for the Patterson Panthers and the Red Bank Quadrangles.
Female athletes would be amazed to learn about Eve Thompson (Class of 1978) who ran cross country on the boys' team because one did not exist for girls at that time. She graduated from Princeton University and obtained her law degree from Georgetown University. Today, she resides in Africa as is the founder and director of FemPro where she continues to work toward the empowerment of women and their elevation in leadership roles.
Other inductees included Coaches Dick Martin, Swimming, and Harold Potter, Tennis. Two former athletic directors and coaches were also honored: George Fallon (coached football and girls' basketball) and Nick Pizzulli who coached baseball, softball, and boys' basketball, where he became a coaching legend. Finally, Frank "Dusty" Bublin was honored who was RBR's meticulous groundskeeper for over 40 years. Additionally, he was RBR's number one fan, as he witnessed almost every outstanding athletic Buc contest.
Four teams inducted were:
The (undefeated) 1922 Football Team; the state champion 1975 Football Team; 1993 Boys Basketball Team and 1998 Girls Basketball Team.
At the annual dinner, RBR Athletic Director Del Dal Pra told the assembled group of honorees, "The culture and strong athletic history created at Red Bank High School transcended to RBR. On Ridge Road, you are the cornerstone representing diversity, athleticism, sportsmanship, determination and pride…Your achievements have set a standard of excellence for the current athletic programs. You truly are legendary and I am thrilled to be here to honor you."