Return to Headlines
Succeeding at the Unconventional --RBR Female Football Player an Inspiration to All
Succeeding at the Unconventional --RBR Female Football Player an Inspiration to All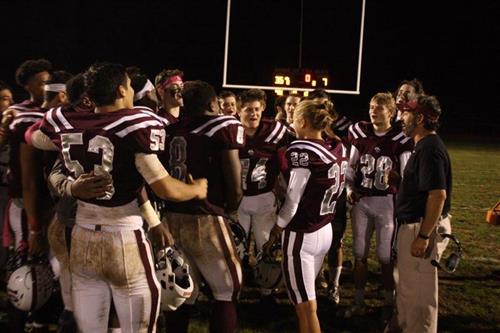 By any measure, Red Bank Regional (RBR) female football player and junior Liva Helt has lived an unconventional life. A Danish citizen born in the Czech Republic, she lived in Vienna and California before settling in New Jersey in the seventh grade. Liva Helt has made headlines in pursuing her ambitions while honing her amazing talents. Every summer she travels to her home country to play on the Danish National Youth Soccer team. During her school year in America, she constantly travels to Somerset, NJ, to practice with the PDA –Players Development Academy. PDA is an elite soccer club that promotes youth soccer excellence and national and international competitions. Her playing talent and stellar academic record earned her admission to prestigious Columbia University two-years ahead of her graduation.
While the rules of the PDA soccer program prevent her from playing soccer on her local high school team, it does not affect her participation on other sports teams. Last year, a spark germinated as she
sat with her fellow classmates on the BUC Deck—the bleachers where students congregate to cheer on the football team. She watched the place kicker kick an extra point through the uprights and thought, "If I can kick a soccer ball, I bet I can kick a football."
This was a big challenge for Liva, since she had no real knowledge of football before she made the decision to play it. Nevertheless, this past summer she emailed RBR football Coach Nick Giglio and asked if she could join the team. He responded quickly and she was on the practice field in July.
Coach Giglio states, "I am also very proud of Liva for putting herself out there in a different environment --going from the soccer field, where she is ultra-comfortable, to a football field where she had to learn the game from scratch."
He adds of her abilities, "She is very coachable, and is a high level athlete no matter what sport she plays. Her concentration, focus, and intensity show when performing her responsibilities on the field."
For a coach to recognize raw talent is one thing, but gaining acceptance from 40 male teammates, however, could have been a challenge for this 5' 6" young woman. Instead she found the opposite was true. The school set up a special accommodation in a solitary changing room and locker in the equipment room while her teammates embraced her as one of the guys.
Liva explains, "It has been a great experience. My teammates have been very supportive and encouraging. They told me, 'you can kick a soccer ball, you can do this.'"
She has kicked for both the varsity and junior varsity teams. She recounts the game on Oct 1, when she actually got to kick a field goal for the varsity team.
She states, "It was just before my birthday and I came out and did it! Afterwards they all sang Happy Birthday to me."
In all, Liva has scored about 18 points. She has her accuracy down and is busy working on distance. Asked the obvious question if she was afraid of being tackled she replied, "I have two older brothers, and am kind of a tomboy. But I feel great protection from my team, and trust them to protect me."
Next year, she plans to continue kicking for RBR with hopefully clocking more varsity time.
In addition to the competition of sport, Liva explains that there was another reason motivating her to play football with the boys.
She states, "With everything that is going on with women and how they are being treated, I wanted to do something where I could break a glass ceiling. As my dad always says, 'Be the change you want to see.' It was very important for me to do this."
Her persistence has paid off as anyone can witness as RBR's newest football celebrity travels through RBR halls to constant greetings and congratulations from everyone she passes that both recognize and respect her.
Coach Giglio comments, "I believe this experience has broadened her level of play, and has shown her and many other girls and boys that if you want to do something in life, then "go get it", take the initiative and combine it with hard work and you can accomplish anything you want in life!"
Liva is very much a child of the world and is working toward an International Baccalaureate Diploma. (RBR is one of a handful of schools that offer this program in New Jersey.) While her college choice is already set on an elite Ivy League school, post college she would like to continue to travel the world and perhaps pursue a career in politics or medicine.
Regarding all the hype and celebrity she has garnered from being interviewed by New Jersey media as well as NBC national news, Liva insists that the story isn't about a young girl doing something unconventional.
She explains, "The story is that a group of 40 boys adapted willingly to this change and have so well supported me in it."
Coach Giglio agrees stating, "Liva Helt has meant so much to our football program. Our coaching staff and players have all become better players, coaches, teammates, and people by having the pleasure to have Liva be a part of our lives. I am extremely proud of her 40 teammates for accepting, welcoming, and supporting Liva both on and off the football field."