Return to Headlines
RBR Theatre Presents The Diary of Anne Frank Nov. 29 thru Dec. 2
RBR Theatre Presents The Diary of Anne Frank Nov. 29 thru Dec. 2
Dedication of Theatre on Dec 2 to Beloved RBR VPA Teacher and Director Joseph Russo
The Red Bank Regional (RBR) Theatre Company will present The Diary of Anne Frank from November 29 through December 2. The play's leading roles of the Frank Family are portrayed by Charlotte "Charley" Novara (Anne), Little Silver; Peter Deverin (Otto Frank), Little Silver; Gillian Andresen (Edith Frank), Oceanport; and Penny Hill (Margot Frank), Little Silver. The play was originally adapted for the stage in 1955 by Francis Goodrich and Albert Hackett. This performance reflects the re-adaption of Wendy Kesselman in 1997.
In preparation for this powerful play, the actors did historic research of the World War II period and the Holocaust. Additionally, the VPA department arranged for a speaker from the NYC Holocaust Museum to visit with the actors.
Performances will take place on Thursday, November 29, Friday, November 30, and Saturday, December 1 at 7 pm with a special matinee performance on Sunday December 2 at 1 pm. Tickets are $15 for adults and $10 for students 18 and younger and senior citizens 62 and older. (RBR students and staff are free.) Red Bank Regional is located at 101 Ridge Road in Little Silver, NJ. Tickets can be ordered online at https://rbrhsnj.booktix.com or purchased at the door the day of the performance. For group sales or more information, contact Eileen Hipper at 732-842-8000,ext. 227 or ehipper@rbrhs.org.
A very special presentation will take place following the Sunday matinee with the dedication of the RBR Theatre to its iconic and beloved drama teacher and director Joseph Russo who passed away last year. Mr. Russo enjoyed a 32- year career at RBR and was a founding member of the Visual & Performing Arts Department. He was honored at the 2015 Basie Awards with the Basie Lifetime Achievement Award in Arts Education, among many other accolades.
###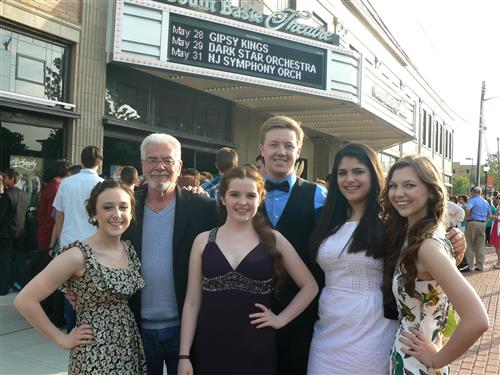 Pictured is RBR's beloved drama teacher and director Joseph Russo with his students at the Basie awards where he was honored for 32 years of dedication to theatre education. Following its Dec 2nd Sunday matinee of Anne Frank, RBR will hold a naming dedication of its theatre in his honor. Joe Russo passed away in May 2018 leaving a legacy of adoring students whose lives he positively impacted forever.