Return to Headlines
RBR VPA Rising Stars Honored at Algonquin Theatre RBR Junior Takes Second Place in NATS Classic Competition
RBR VPA Rising Stars Honored at Algonquin Theatre
RBR Junior Takes Second Place in NATS Classic Competition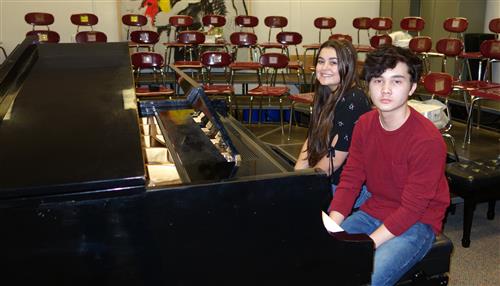 Two Red Bank Regional's (RBR) Visual & Performing Art Academy (VPA) students were chosen as Rising Stars by the Algonquin Arts Theatre, a 20 year old, state-wide competition. RBR junior Catherine Creed, Red Bank, 16, a VPA vocal major, and freshman Gabriel McGivern-Jimenez, 14, Wall Township, a VPA piano major were chosen along with ten other student musicians. Selections were made from entrants' audition tapes of classical music selections. The twelve finalists performed in a concert held on Wednesday, November 14, at the Algonquin Theatre in Manasquan NJ. In addition to their individual performance, the students were able to work with a Master artist and mentor Opera and Musical Theatre performer Bass Martin Hargrove.
Both RBR students have performed in many public arenas. For freshman Gabriel McGivern-Jimenez this marks his second successful classical piano competition. This past summer, he won a Gold Medal at the Golden Keys classical piano competition and performed at Carnegie Hall. He has also performed in numerous school and community events.
Catherine Creed had just successfully placed in the NATS (the National Association of Teachers of Singing) competition taking 2nd place in the in the Women's Upper Division classical segment. (She had finished fourth as a lower classman the year before.) That competition was held on November 3 at the Westminster Choir College Family Weekend Showcase. Catherine has also amassed prior accolades including placing second in the 2017 All State Opera and making the prestigious All Shore Choir. She has performed twice at Carnegie Hall for Opera and with the New England Symphonic Ensemble. She performed with RBR and the Cathedral Choir at Saint Patrick's Cathedral and with the Concordia Choral at the Radio City Christmas Spectacular.
Both students share a passion for their art and are delighted they have the opportunity to practice it 90 minutes in every school day. Catherine hopes to attend a major music conservatory college after graduation and would like to pursue a career in voice performance. She remarks about her opportunity to attend the RBR VPA program, "It is just a giant family. I love it here; this is my home. It is always so amazing to work with people who are just as passionate as you about the arts."
Gabriel is excited to pursue a career in a musical profession.
Gabriel commented on the competition and program, "I really like performing; it is just the feeling of people enjoying what I do and provides a sense of purpose to what I have been practicing."