Return to Headlines
RBR Students Learn of College Acceptance on Instant Decision Day
RBR Students Learn of College Acceptance on Instant Decision Day
Over 60 College Acceptances and $2.25 million in merit scholarships were offered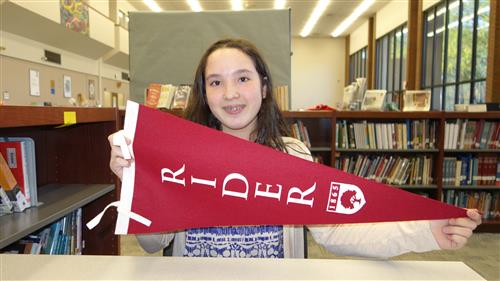 During two days in November, eight colleges visited Red Bank Regional High School (RBR), not for a college fair, but an actual interview with students for admission to those colleges. And the best part, the 50 students who participate learned that day that they were accepted into the college and the amount of scholarship they would receive. The offers were non-binding on the students. RBR Instant Decision Day 2018, the brainchild of RBR Guidance Director Jason Sabino, included the public schools of Ramapo, Stockton, NJIT, and Kean Universities and private schools of Fairleigh Dickinson, Georgian Court, Rider and Seton Hall Universities. Over 60 college acceptances and $2.25 million in merit scholarships were offered to RBR students during the Instant Decision Days.
Mr. Sabino comments, "In my prior employment, we conducted a similar event and most schools throughout the county will do this with one or two colleges. I thought it would be so much more beneficial if we could arrange to have more schools participate, in order to attract more students. This way, a large range of students are able to participate in multiple interviews with different schools in a day. RBR Guidance Department is pleased to report that a number of students that participated in this event were first generation college students."
While there might be some high schools in the area that have invited schools to do similar events, Jason Sabino does not believe any other school district runs a collective program with so many schools coming in a concentrated period of time. This way, students were also able to take multiple interviews with different schools in any one day. The RBR Guidance Department sees another advantage to Instant Decision Days in the encouragement of four-year college attendance.
Alanah Ramos, Union Beach received an acceptance and generous scholarship offer to Georgian Court University. But she was also anxious to meet with Stockton on the second Instant Decision Day, stating, "They are all good schools with different strengths."
Sabino comments, "There are some students who are on the fence on whether they think they can apply and get scholarships to a four-year college. My goal is that this event will increase their interest to actually meet with these representatives where they will have the opportunity to talk to them about the realities of attending a four-year institution. And with the preparation we put into the process before the interview, we are afforded an opportunity to control things we cannot outside the building such as prepping them best for the interview and encouraging interview attire."
RBR Guidance Counselor Shalene McLaughlin orchestrated the event and worked with seniors that chose to participate. Students were coached on the college interview process, what questions they might ask and how to express interest in the specifics of the school and major. The students' transcripts and standardized test scores were sent to the colleges ahead of time along with their common application. On the college-end, these students were pre-screened and the admission officers came prepared to offer acceptances and actual merit scholarship offers. All that was left was the important interview process where the college can take full measure of their prospective student, and the student could learn more about the college.
Stacy Osorio, Red Bank, who received her acceptance to Georgian Court that day along with an offer of a generous merit scholarship, stated, "It was so good that they came here and know that we are not just an application but a person and they actually see us."
Stacy also learned that she would be accepted into the college's honors program; something that will help her application to the competitive Georgian Court nursing program, the career to which she aspires.
As the interviews were held on November 14 and 20, the students were able to enjoy their holidays knowing that they were going to college.
Paul Bikker, Little Silver, who received his acceptance to NJIT, remarked, "It feels really good to definitely know that you have somewhere to go. It was announced a few times (that colleges were coming to interview) and one of the schools I was going to apply to regardless was on the list. It definitely made it easier to know you were accepted instantly."
Harrison Jones, Red Bank who also received his acceptance to NJIT added, "I am applying to other schools, but this was very helpful to me, thinking about spending the next few months waiting on letters, thinking how stressful that could be, but now this makes that much easier to deal with."
Suzette Rodriguez, Red Bank, was ecstatic with her very generous scholarship to Rider University. She hopes to major in business administration and minor in homeland security. She learned from the representative that day that the school has a good five-year program in both.
She remarked, "The Instant Decision process was nice to have met one-on-one with that person. It lifted a great weight off my shoulders. I am going to college now, and don't have to wait. I was abe to enjoy Christmas knowing I already got into college."
Alyssa Conti, Union Beach, is a student in the RBR Early Childhood Academy. She would like to major in sociology and work with young children someday. She was thrilled to receive her first college acceptance to Rider University which offered her the Presidential Scholarship. She thought the Instant Decision program was great since it gave her the impetus to initiate the college application process.
She commented, "It was very surprising and very surreal. You work hard throughout high school to get to college and that is the end goal. I have applied to six other schools, but Rider is looking pretty good right now because of the scholarship."