Return to Headlines
Lisa Boyle Selected as RBR Educator of the Year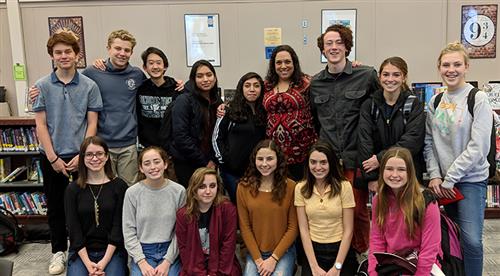 Red Bank Regional has selected Spanish teacher Lisa Boyle as its Educator of the Year for 2019. She has been very involved in many aspects of the school community since she arrived in 2002. Senora Boyle has been the advisor to the Spanish National Honor Society for at least 10 years. Before that she was the co-adviser for the multi-cultural club. Over the past three years she has stayed after school twice a week to tutor students in the RBR SOURCE community tutoring program. She fills in the time between the tutoring and class as the after-school detention teacher.
Lisa Boyle is a teacher wearing many hats, and as she enthusiastically states, "I love all my hats."
That includes the detention assignment she views as "self-improvement" detention as she conducts an informal one-on-one counseling exercise. I ask them why are they here and what can be done so they are no longer frequent visitors. If they are habitually late for school, I ask them if they need an alarm clock. I have bought kids alarm clocks."
This is indicative on how much Lisa Boyle loves her job and loves the interaction she has every day with her students and colleagues.
She has developed many opportunities for her students to be more involved with the community and to engage in multiple community service programs. Senora Boyles 'students perform bilingual translation services at the Red Bank primary school during teacher-parent conferences. They participate in the Red Bank Easter Egg Hunts. Every Christmas they meet at the Red Bank Municipal Center to call Spanish-speaking families in a long-standing "Calls from the North Pole" program. For the past ten years, Christmas has been celebrated with a special Stocking Stuffing event for the military. The Spanish Honor Society adopted whole troops of soldiers in Iraq and Afghanistan. Most recently, RBR's own military alumni and their troops have been the beneficiaries of holiday stockings stuffed with sweets and sent to them overseas.
At Ursinus College, Lisa Boyle studied both Spanish and Japanese, obtaining a bachelor's degree in world language. She explains that she has always been fascinated with everything Spanish since she learned of her heritage as an adopted child from Colombia. Nevertheless, she didn't really excel in the Spanish language, until she lived for one year in Spain in a language emersion program during college. Then everything clicked. Upon her graduation, her alma-mater asked her to teach Spanish even though she had not initially pursued an educational degree. However, she was such a natural teacher, that the school district arranged for her to obtain her teaching certificate through an alternative track.
She transferred briefly to an elementary school to teach young children Spanish, sometimes sporting a flamenco gown to grab their attention. During her tenure at RBR, she obtained her masters in educational administration from Georgian Court University, which enables her to become a supervisor or principal someday.
She lives in her hometown of Bayville, NJ with her husband, Christopher, and daughter Sadie. It is a bit of a commute to RBR, but every morning she can't wait to come to school to see her extended family, exclaiming, "I regard my students as my nieces and nephews and my colleagues as my siblings. I love my students and the people I teach with."