Return to Headlines
RBR Showcases African American Accomplishments in Celebration of Black History Month
RBR Showcases African American Accomplishments in Celebration of Black History Month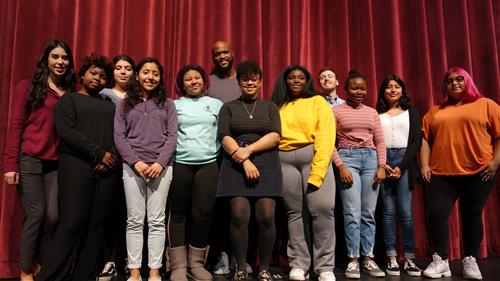 "When you know you are of worth, you don't have to raise your voice, you don't have to become rude, you don't have to become vulgar; you just are. And you are like the sky is, as the air is, the same way water is wet. It doesn't have to protest."
Maya Angelou
This was one of many quotes from iconic African Americans that Red Bank Regional (RBR) Multicultural and creative writing majors read throughout their program in celebration of Black History Month at the high school. The program was produced under the direction of teachers Gabriela Castro and Keith Savarese.
The students narrated a program recognizing the many contributions African Americans have made to their country from the civil rights movement to music, literature, science, sports, politics and entertainment. Jersey native NFL player Hakeem Valles was the guest speaker with a values message of hard work, education and goal-setting. African American contributions to arts and literature were showcased through the talents of the RBR Visual & Performing Artist Students.
The program began with the performance of the Black National Anthem," Lift Every Voice." The VPA Dancers dazzled the audience to the lyrics of John Legend's cover "Pride" and "Stand up for Something" by Andria Day.
VPA Drama students gave a rousing rendition of Dr. Martin Luther Kings' "I Have a Dream Speech" and "Make America America Again" by Langston Hughes.
VPA Jazz students performed Charles Mingus rag time piece "Goodbye Porkpie Hat." VPA pianist Will Casey performed to Scott Joplin's "Maple Leaf." The VPA Choir received a spirited ovation to Rollo Dilworth's Negro Spiritual "Jordan's Angels." The Strings band performed "African Adventure", written by Robert Sheldon. RBR Creative Writing major Alex Lewis poignantly performed her original poem, a personal account of her experiences and feelings growing up as a black teenager in America today.
She spoke of being almost invisible in a predominately white school and predominantly white community and of her downtrodden spirit while witnessing continued social injustice to her race evident on our TV screens from captured cell phone videos.
Guest Speaker Hakeem Valles began his speech by recounted a horrifying personal experience in explicit detail. When on a church mission to help the people of Haiti, he and his family members were attacked in their lodgings by bandits who they feared would surely kill them.
He asked the students, "Imagine that horrible situation and that you got out of it. What would you do differently? What would you value?"
He explained how that event caused him to reevaluate his life and his priorities inspiring him to work extremely hard in making the most of his education, and training relentlessly for a professional football career. Five years following his high school graduation he was drafted into the NFL as a tight end. His career history includes stints with the Arizona Cardinals, the Detroit Lions and, currently, the New York Giants. He also sought a career interest outside of football, acknowledging that the average NFL career lasts about two and one half years. He found that interest in investing in real estate. He encouraged the students to do the same; write down their goals, work hard to achieve them and to find their true passion.
With all the positive contributions that African Americans have made to our society, and while programs like this one recognize those accomplishments, the students explained that there still is a way to go.
Multicultural student Theo Gearty stated, "It has simply not been that long since African Americans were legally excluded from so many aspects of American life. It hasn't been an easy struggle. We don't have to go all the way back in history to slavery to see the effects of institutional racism in our country. You can go back to events that happened in the lifetimes of many people here. That struggle continues today."
Alex Lewis concluded, "That's part of why we gather here today to celebrate black history. We honor those who came before. We celebrate how far we've come as a society, but we also honor those who continue the struggle today – for the struggle is far from over."