Return to Headlines
Registration Open for May 19 Ridge Road Run 5K to Promote Suicide Prevention
Registration Open for May 19 Ridge Road Run 5K to Promote Suicide Prevention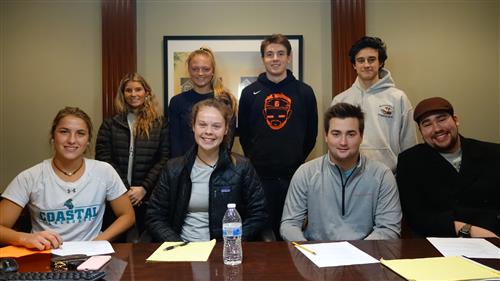 The collaboration continues between athletic rival schools Red Bank Regional (RBR), Rumson Fair Haven (RFH) and Red Bank Catholic (RBC) in the common cause to promote suicide prevention and teenage mental wellness. The 5K is scheduled to begin at RBR this year on Sunday, May 19 at 8:30 am, followed by a one mile race at 9:30 am and kiddie dashes at 10 am. The kiddie dashes will take place on the RBR football filed. Other festivities are planned to make this a fun community event. All proceeds will benefit the Mental Health Association of Monmouth Countyand other suicide prevention programs. Information and registration for the event can be found on the website www.RidgeRoadRun.org.
The run is being planned by teenagers Claudia Kelly, Jack Chamberlain, Jackson Wilcox (RBR); Cassie James, Jacob German, Ethan Ardolino (RFH); and Katie Riddle and Mackenzie Boyle (RBC). The eight students hope to capitalize on the incredible success of the inaugural run which attracted over 1,500 participants and brought in over $118,000 last year when it was held at RFH in Rumson last year.
The students believe the stakes are high, because the cause is so important.
RBR's Claudia Kelly states, "The pressure on students these days is so much worse than before. This is a real problem in our society (teenage suicide) and it will not go away unless we work to keep it relevant in people's minds to what is going on."
I think this is such a popular fundraiser because it is such a common problem now and people want to end it," adds RBC's Mackenzie Boyle.
RFH's Cassie James explains that the group is working on ways to expand the program beyond the event with the addition of a "Walk of Hope" in each school. This will provide an option for donors to buy paving bricks as a constant reminder of this heart-breaking and yet ubiquitous problem.
Businesses as well as individuals are invited to sponsor the event and are encouraged to visit the website at https://www.ridgeroadrun.org/sponsorship to support the cause.