Return to Headlines
RBR Female Cyber Security Team Wins Girls Go Cyberstart/Cisco Essay Contest
RBR Female Cyber Security Team Wins Girls Go Cyberstart/Cisco Essay Contest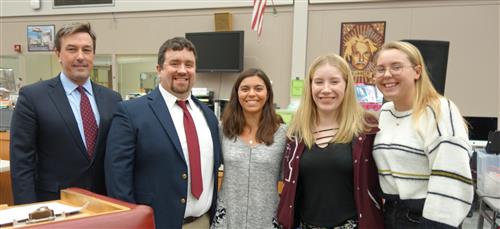 Red Bank Regional technology students were among four teams in the nation that won the first annual Girls Go Cyberstart/Cisco Essay Contest. Mackenzie Wood, 17, Oceanport; Tess Hintelmann, 16, Little Silver; and Allessandra Swart, 16, Spring Lake, composed Team Bucaroo. The other three winners were from teams in Indiana, Texas and High Tech High in Lincroft, New Jersey. The winners received an all-expense-paid trip to the three-day professional cybersecurity conference in Pittsburgh, PA. The conference will include workshops, networking opportunities, a career fair, and talks from female leaders in the cyber security industry
The girls were delighted as they were already intent on attending the conference.
Mackenzie states, "There will be many women in cybersecurity and other kids our age interested in it. It will be a great opportunity to learn from them."
While the girls are all juniors they are either in the Academy of Information Technology (AOIT) or taking technology courses in the Academy and wish to pursue a career in technology after college. They are also active in mentoring middle-schools students from RBR's sending schools in a girls' coding group which meets after school. The girls' intention, as is the purpose of the Cyberstart Cisco Essay contest, is to attract more females into this important field. The cyber Essay contest was a collaborative program of CISCO and the SANS Institute.
According to the students' teacher Jeremy Milonas, who encouraged the girls to participate in the contest, the "The young ladies were tasked with writing a 600 word essay about a Cybersecurity topic of their choosing and answering the following questions: How is it game-changing? How will the use of this item evolve in the future? What impact could it have? How could that use go rogue and what would be the bad outcome? And what developments in cybersecurity will be needed?"
` The girls chose the subject of self-driving cars.
Tess Hintelmann remarks, "It is a subject that is relevant since, it is already here with Tesla; and in the future everyone will have a self-driving car."
Allessandra Swart adds, "It is particularly relevant to our lives since we are starting to drive and this will impact us personally."
In their essay, the students described the great advantages of self-driving cars, allowing multi-tasking and eliminating the human error factor which should result in much safer roads. However, they brought up the negative aspects, in particular where automobile technology is susceptible to cybercrime, stating, "The ease of breaking into a high tech car was demonstrated when Tesla released their Model S car. Engineers overlooked how the key fob signal could be replicated in about two seconds, using just a tablet and a phone, giving the hacker full access to the car."
In another example of the dangers of self-driving cars, the girls stated, "Although computers surpass the capability of the human mind, they function in a binary way and are not able to compute unexpected events. A team at the University of Michigan proved that adding a decal to a stop sign misled the vehicle into thinking it was a speed limit sign for 45 miles per hour."
They concluded that self-driving cars can only be truly safe if technology is tighter for glitches and outside hacking threats prevented with strong cyber security.
The judges of the Girls Go Cyberstart/Cisco Essay Contest remarked about the Team Bucaroo submission, "It was very interesting seeing their perspectives. I definitely wasn't thinking about security in that way at their age!"