Return to Headlines
RBR Honors its Top Academic Students and Varsity Letters Recipients
RBR Honors its Top Academic Students and Varsity Letters Recipients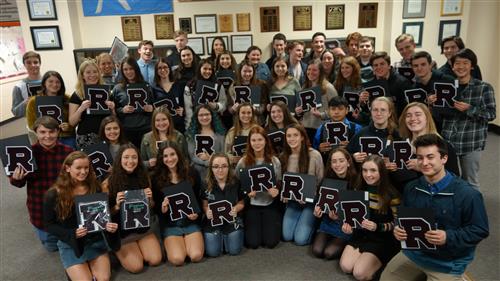 At the February 6 Board Meeting, the Red Bank Regional (RBR) Board of Education was visited by a huge crowd of students and their parents to honor RBR's top academic superstars including Commended Merit and AP scholars. The largest group of honorees were given their own varsity letters, a time- honored RBR tradition, which recognizes students who have consecutive honor rolls throughout the previous school year.
One special group of seniors within the varsity letter recipients were recognized for receiving straight As from their freshman through their junior years of high school, and, therefore, the proud recipients of three varsity letters. They were: Amy Gardner, Charlotte Jansky, Page Lootsma, Lauren Marcolus, Kelly O'Donnell and Christina Wichmann.
The following students had straight A's for the entire four marking periods in their 2017-2018 school year. They were:
Seniors: Jack Davis, Hannah Gazdus, Cori Martin, Hannah Nishiura, Nicholas Principe, Julia Schneider.
Juniors: Ellie Chrampanis, Grace Conway, Anna Cuozzo, Eric Deykerhoff, Nettie Gaeta, Liva Helt, Julia Kirkpatrick, Alyssa McAvoy, Jack McCabe, Kiera McCarthy, Elizabeth Norton, Olivia Rogers, Benjamin Smelas, Michael Tobin, Katherine Villaluz, Sam Wasserfall, Kyle Weisman, Kira Dunnican, Tor Haugenes, Tess Hintelmann, Aron Wiener
Sophomores: Mathew Blankly, Luke Chrampanis, Elliott Colella, Alexa Dandrea, Grace Davidson, Natalie DellaRagione, Jack Drucker, Eleanor Fields, Ava Forbes, Hope Goldsmith, Gabrielle Jamieson, Georgia Landree, Owen Laughlin, Alex Lopez Luna, Elisabeth Maguire, Cara McCarthy, Kevin McCarthy, Ryan McGee, Margaret Mullaney, Cara Ostrowski, Christopher Paolino, William Paterno, Melinda Peters, Molly Sauer, Emily Sullivan, Bridget Thomas.
Three students, Paul Bikker, Maria Fotopoulos, and Brendan Loftus were recognized as National Merit Program Commended Scholars. Commended Scholars represent the top 2.5% of the 1.5 million students who took the exam. Semi-finalists submit applications to be chosen as finalists who earn scholarship money for college. Senior Hannah Gazdus has been selected as a Finalist in the competition and is awaiting to hear about potential scholarships she may be awarded.
Advanced Placement (AP) Scholars were also honored in several categories:
2018 AP Scholar with Distinction: Hannah Gazdus and Dean Hottmann. These students achieved an average score of 3.5 on all AP exams with scores of 3 or higher on 5 exams
2018 AP Scholar with Honor: Paul Bikker and Craig Scharmann. These students achieved an average score of 3.25 on all AP exam and scores of 3 or higher on 4 or more exams.
2018 AP Scholar Award: Aidan Gilmartin, Matthew Izzo, Charlotte Jansky, Page Lootsma, Meghan Murray, Julia Schneider and Tyler Schwinn. These students achieved a score of 3 or higher on 3 or more AP exams.
2018 College Board National Hispanic Recognition Program: Amy Gardner and Liam Landree. These students were invited to apply to this program because they scored in the top 2.5% on their PSAT among all Hispanic and Latino test takers in the RBR region.