Return to Headlines
RBR AOIT Team Takes Second Place in New Jersey CyberPatriot State Championship Over 45 RBR students took the CyberPatriot Challenge
RBR AOIT Team Takes Second Place in New Jersey CyberPatriot State Championship
Over 45 RBR students took the CyberPatriot Challenge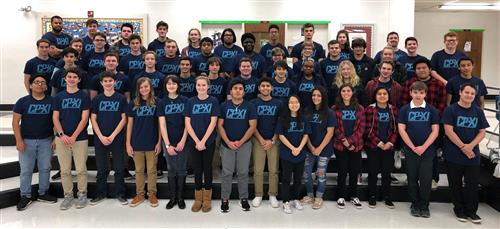 From the beginning of this school year, the Red Bank Regional (RBR) Academy of Information Technology Students (AOIT) have been preparing for the renown CyberPatriotXI national competition. They began in September with over 45 participants representing 8 teams. After over 100 hours of preparation, one team survived to the top of the New Jersey state competition coming in second place. Team Dark Red is composed of Captain Steven White, 17, Union Beach; Rafael Martinez, 18, Red Bank; Matthew Swaggerty, 17, Little Silver; Matthew Izzo, 17, Little Silver; Dennis Dayan, 16, West Long Branch and Sean O'Mara, 16, Shrewsbury. Team Dark Red rose to the top platinum division competing among 740 teams from around the country. A victorious 17 teams then vied for the top spots in the State of New Jersey. Their journey ended last month when they finished 43 out of 190 finalist teams nationwide. The national finals will take place in Baltimore in April. All qualifying competitions were run at RBR on its computers on Saturday mornings.
RBR has a strong track record in the CyberPatriot competition, having won first place in CyberPatriotIII and placing in the top 12 three additional times for the national competitions in the Washington D.C. area. This year's team chose its name in homage to the famed CyberPatriot XI 2nd place finisher, Team Maroon. Over the past eight years, participation in the team completion has grown significantly at RBR including increased participation by female students in the competition.
RBR AOIT teacher and CyberPatriot Advisor Jeremy Milonas comments on the value of this competition to his students stating, "For a lot of our students this is their chance to shine. They may not be a top athlete but this competition gives them the same benefits they would get from any other team—the comradery, leadership skills and the driving commitment it takes to work with other people toward a goal. At the end of the day, employers are looking for kids with these skills. So it is important for our kids to participate in these kinds of competitions so they can show and how hard they are willing to work to achieve their goals."
CyberPatriot is the National Youth Cyber Education Program created by the Air Force Association (AFA) to inspire K-12 students toward the important careers in cybersecurity or other science, technology, engineering, and mathematics (STEM) disciplines critical to the United State's future. For more information on the competition, visit their website at https://www.uscyberpatriot.org.