Return to Headlines
RBR's Lily Pena Wins Regional Poetry Out Loud Contest for Second Time
RBR's Lily Pena Wins Regional Poetry Out Loud Contest for Second Time
RBR's Lily Pena Wins Regional Poetry Out Loud Contest for Second Time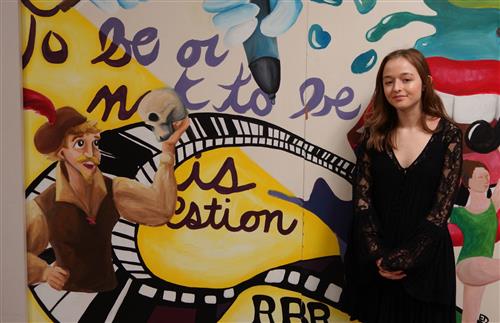 For the second year in a row, Red Bank Regional's (RBR) Lily Pena, 17, of Red Bank, won the NJ Poetry Out Loud Region 3 contest to represent Monmouth, Ocean and Middlesex Counties in the state competition, which was held in March at Ocean County College in NJ. She shares this honor with Nathan Magno, of Toms River, a student at the Ocean County Vocational Technical School Performing Arts Academy. The two are among the 20,000 students statewide that competed in the Poetry Out Loud contest. Twenty schools were represented in the Region 3 competition held at Count Basie in February. This national recitation contest is sponsored by the National Endowment for the Arts and the Poetry Foundation.
Lily states, "The pressure is really on when you are up there and I was very nervous. But I had been there before and this time I felt more prepared and confident. I had worked a lot on the poems and felt very connected to them."
Lily is a drama major in RBR's Visual & Performing Arts Academy. She credits her teacher and fellow students for greatly helping with her preparation. For the qualifying performance she recited one poem; but for the regional performance she needed to perform three.
She explains, "I brought in poems to my drama teacher, Mr. (Reuben) Jackson, and his input was really helpful showing which ones worked and resonated."
She also performed the poems for her classmates. She adds, "All the drama majors in the class wanted to see me do well and gave me a lot of critiques. It was so beneficial to go into class and get suggestions from everyone."
The National Poetry Out Loud contest takes place in Washington D.C. in April. For more information on the contest visit their website at https://www.poetryoutloud.org/.